Reignite childlike wonder this festive season by journeying abroad to explore the world of rich Asian Christmas traditions. December is a great month to visit these cities and destinations to sample special Christmas foods and get in the festive spirit.
Pack that Santa hat and make the voyage to Asia where more than half the world's population will show you their unique Christmas traditions. These are the best Asian Christmas destinations to travel to in December.
The Philippines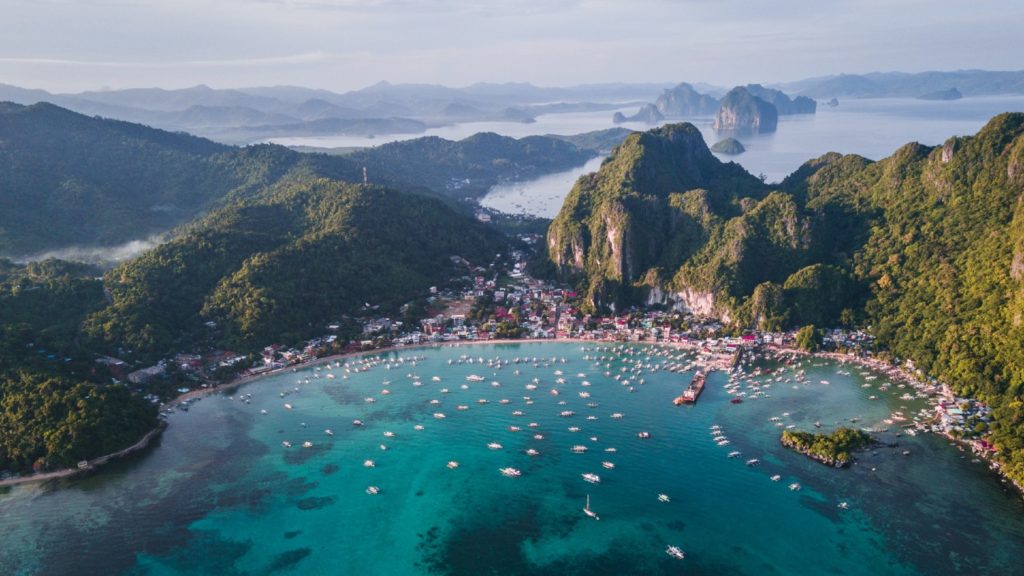 Filipinos love Christmas so much they start celebrating in September. Seriously! On the first day of the month people put up their Christmas tree and decorate their houses with big lights, including a uniquely Filipino Christmas lantern called a parol.
In the nine days leading up to Christmas, Filipinos attend daily Simbang Gabi ("night mass") either late at night or very early in the morning. Afterwards, stalls outside churches sell local Christmas snacks made of rice called bibingka and puto bumbong.
On Christmas Eve, families gather for Noche Buena, a traditional dinner of roasted pig, cheese, special fruits, pancit (noodles), sweet spaghetti, lumpia (spring rolls), embutido (dry sausage) and kare-kare (stew). But, of course, Christmas is not over on the 25th. Filipinos celebrate until the Feast of the Three Kings in early January.
Singapore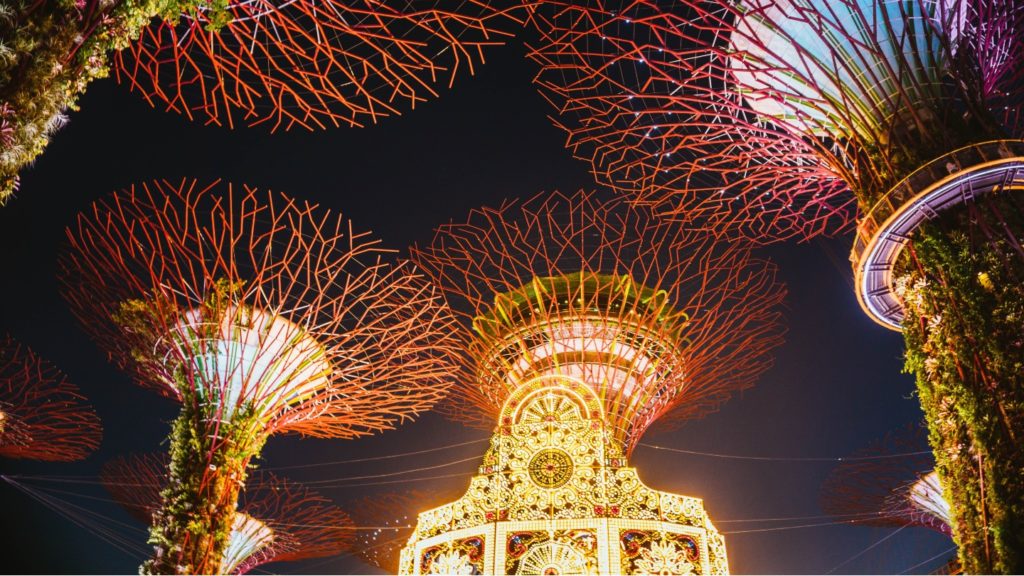 The famous Orchard Road shopping area transforms into a dazzling Christmas village complete with a mammoth sparkling tree. Over at Gardens by the Bay an extravagant month-long light and sound spectacle called Christmas Wonderland features festive attractions, carnival games, a market, Santa's grove and a skate rink.
Those dreaming of a white Christmas can head to Snow City or chase the magic at Universal Studios Singapore, where jolly characters roam the streets and there's a program of special festive shows and experiences.
With a huge expat community, it's no surprise that Christmas is big news in this small Asian nation. Restaurants around the city roll out festive menus, often giving traditional dishes such as turkey with a local twist.
GET INSPIRED BY: Singapore Explorer
Hong Kong
Imagine watching a dazzling show of lights and lasers bounce off Hong Kong's glass skyscrapers onto the water at Christmas time. Embarking on a night cruise in the Harbour City is one of the best ways to reflect on the festive season and celebrate the year's end.
In December, Hong Kong's month-long Winterfest brings spectacular light displays, a big sparkling Christmas tree, Santa's grotto and carols to the city. Locals decorate their skyscraper apartments with twinkling lights, trying to outdo their neighbours, and plenty of restaurants offer festive menus.
RELATED CONTENT: 6 facts you probably don't know about Christmas in China
Macau
Look beyond the southern Chinese city's reputation as the gambling mecca of Asia and you'll see a bright star (with plenty of spectacular lights) at Christmas. Macau blends Chinese customs with Christian Portuguese traditions, creating a unique atmosphere at Christmas. Towering Christmas trees, nativity scenes and Portuguese pastries meet mega fireworks displays. And, of course, the casinos put on plenty of festive fun and food.
GET INSPIRED BY: Hong Kong & Macau Experience
Seoul, South Korea
In South Korea, children wait for Santa Haraboji to deliver gifts. Sometimes he wears red, sometimes blue, and always a traditional Korean hat. People decorate their Christmas trees, gift money, exchange cards, go to church and eat bulgogi.
Seoul is one of those energetic mega cities that's always buzzing bright. Come Christmas time this is only amplified with a complete festive takeover of all theme parks and shopping malls. The downtown Cheonggyecheon area is turned into a dazzling array of flashing lights. Take a spin around the ice skating rink at Seoul Plaza, or seek out a ticket to the Korean National Ballet's annual season of Tchaikovsky's The Nutcracker. Christmas in South Korea is more romantic than religious and mostly celebrated by couples.
Taipei, Taiwan
Only a small percentage of the population is Christian, but that doesn' stop Taiwan celebrating Christmas. In Taipei Christmasland takes over the Banqiao district turning the area into a giant winter wonderland. Think enormous festive light installations, such as a forest of Christmas trees and a mega festive music box.
For something more low key, appreciate Christmas Alley in the Beitou district. Here residents create an extravagant display of lights and ornaments for the two weeks leading up to Christmas.
RELATED CONTENT: Most Popular Food at Christmas Around the World
Tokyo, Japan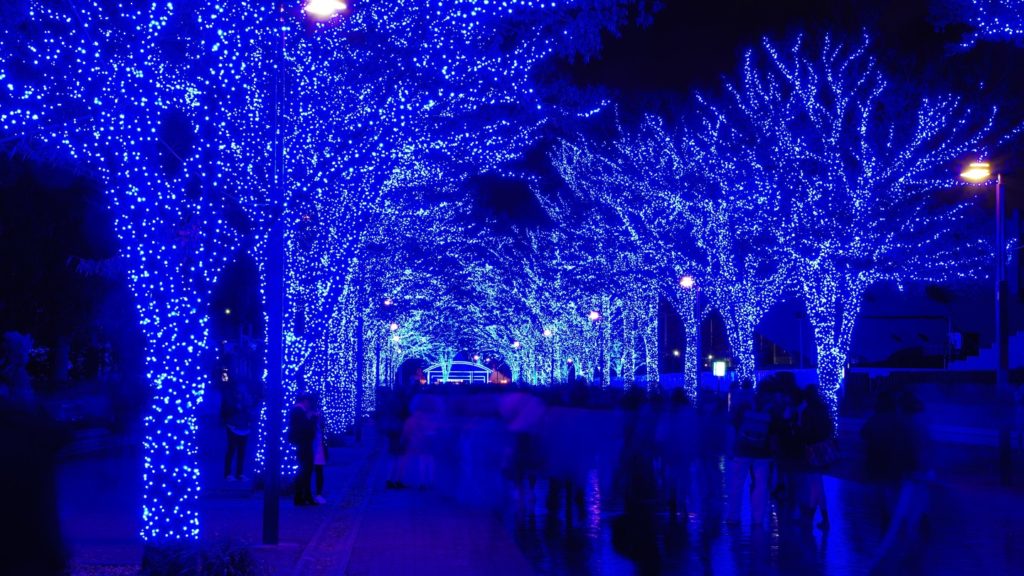 Tired of cooking for the family on Christmas Day? Make like the Japanese and order buckets of KFC instead. Thanks to a super successful marketing campaign in the '70s, Japanese families feast on fried chicken. And for dessert: a slice of strawberry shortcake.
At Christmas time buzzing Tokyo (somehow) manages to step things up another notch. Head to the Roppongi, Starlight Garden in Tokyo Midtown and Caretta Shiodome to catch the festive feeling. Shop at the European-inspired Christmas markets under the Tokyo Sky Tree. Afterwards head to Disneyland Tokyo and Disney Sea for special events and big fireworks displays.
GET INSPIRED BY: Splendours of Japan
Goa, India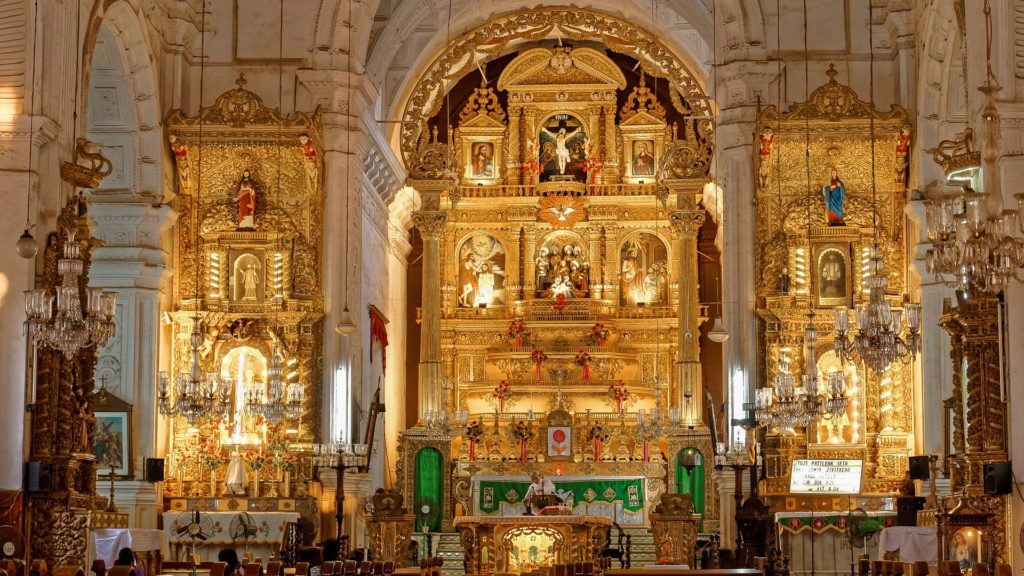 Christmas carols, tropical heat and vindaloo curries make celebrating the silly season in Goa a unique experience. Instead of pine trees locals decorate banana trees and party on the beach.
On Christmas Eve people celebrate with a feast before attending midnight mass. More than a quarter of the population identifies as Catholic and India's smallest state is dotted with 17th-century churches and cathedrals from centuries of Portuguese rule. At one point Old Goa rivalled Lisbon for religious importance and size.
GET INSPIRED BY: Uncover India
Have you ever spent the festive season or Christmas Day in Asia? Where did you go? What was your favourite thing about it?