Seeing the cherry blossoms in Japan is an essential tick on any travel bucket list. As winter gives way to spring, the Japan sakura (cherry tree) sends city streets, ornamental gardens and pretty canals awash in a sea of pink.
While it is possible to see spring blossoms in other parts of the world, nowhere else on earth can match the eruption of excitement and celebration of the Japan sakura.
But catching the cherry blossom season in Japan takes prior planning and preparation – the trees only bloom for a few short weeks each year. If you want to see the cherry blossoms in Japan, peak pink blossoms happen between mid-March and early May each year.
There are hundreds and hundreds of incredible places to see the Japan sakura, but here are the 9 best places in Japan to experience the incredible cherry blossom season.
If you're ready to lock in Japan in 2022 or 2023, our Japan tours are now on sale at this year's prices. Travellers joining a Japan Trafalgar tour in early April will definitely catch this once-in-a-lifetime spectacle.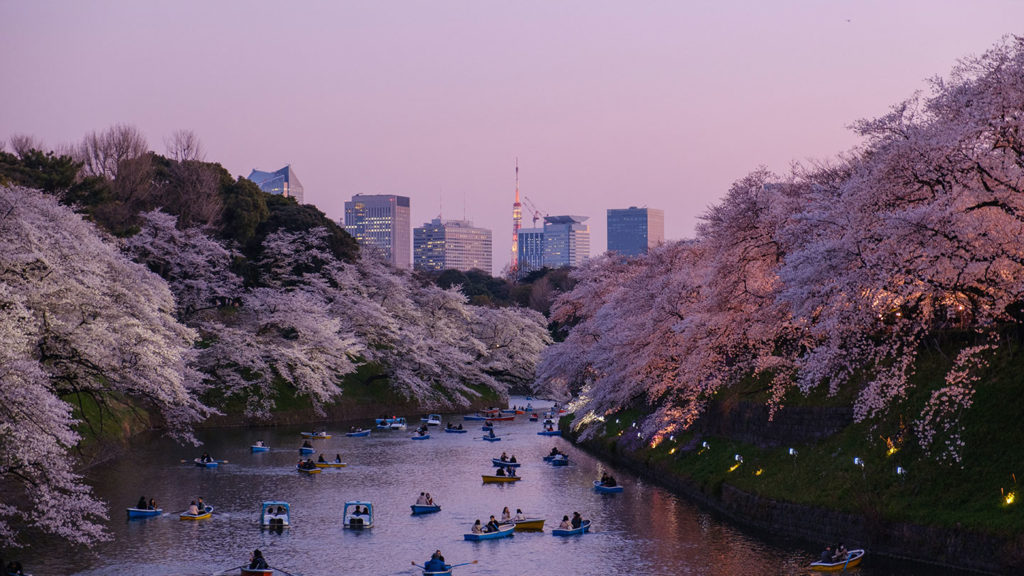 Cherry blossoms in Tokyo
Tokyo is a fast moving modern metropolis, but it's not just glass highrises and robot diners. Tokyo has a huge number of parks, promenades and stunning gardens where the beautiful cherry blossom season can be seen in full swing.
1. Ueno Park
One of the most popular cherry blossom parks in the city is Ueno Park. It's home to more than 1000 Japan sakura trees, plus museums, shrines and ponds. In late March and early April during the evening a 4km path is illuminated with lights. Viewing the blossoms at night is called yozakura. Usually lights or lanterns are spun into the branches to make the flowers glow at night. There are also stalls with Japanese street food like noodles and rice balls so you snack and stroll the park.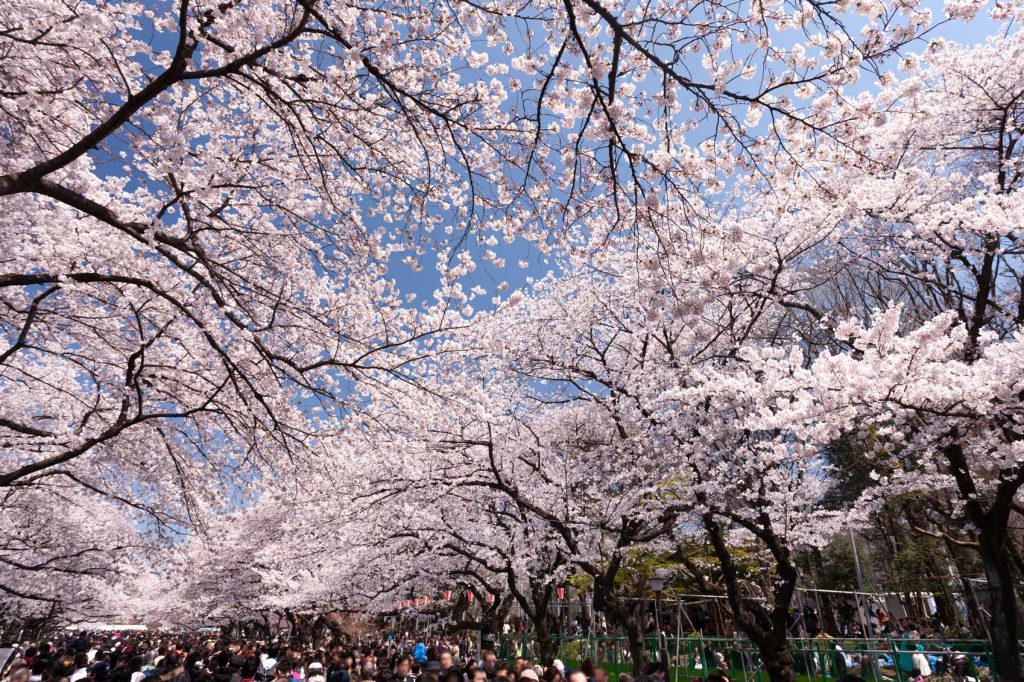 2. Shinjuku Gyoen
For a slower pace of life, wander over to the English Garden at Shinjuku Gyoen. Here you'll find rolling green lawns ideal for a hanami. That word describes the act of observing and appreciating the cherry blossoms in Japan. Across the country, friends, families and colleagues will gather with picnic boxes and blankets to have a picnic beneath a cherry blossom tree. (Japanese cherry blossom picnic).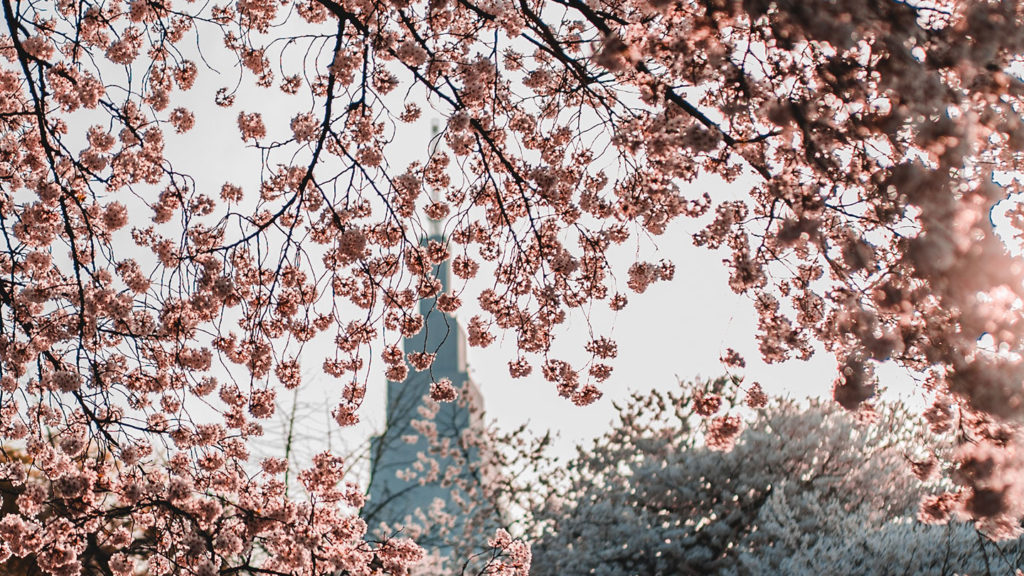 GET INSPIRED: Splendours of Japan
Cherry blossoms around Mt Fuji
Around Mount Fuji and the Fuji Five Lakes region you can see spectacular floods of pink cherry blossoms to frame your photos of Japan's most famous mountain.
3. Chureito Pagoda
A favourite spot for photographers, the Chureito Pagoda attracts visitors year round but is most popular in mid April for the cherry blossom season in Japan. In photographs the pagoda can appear to float on a sea of pink flowers with the spectacular Mount Fuji in the background.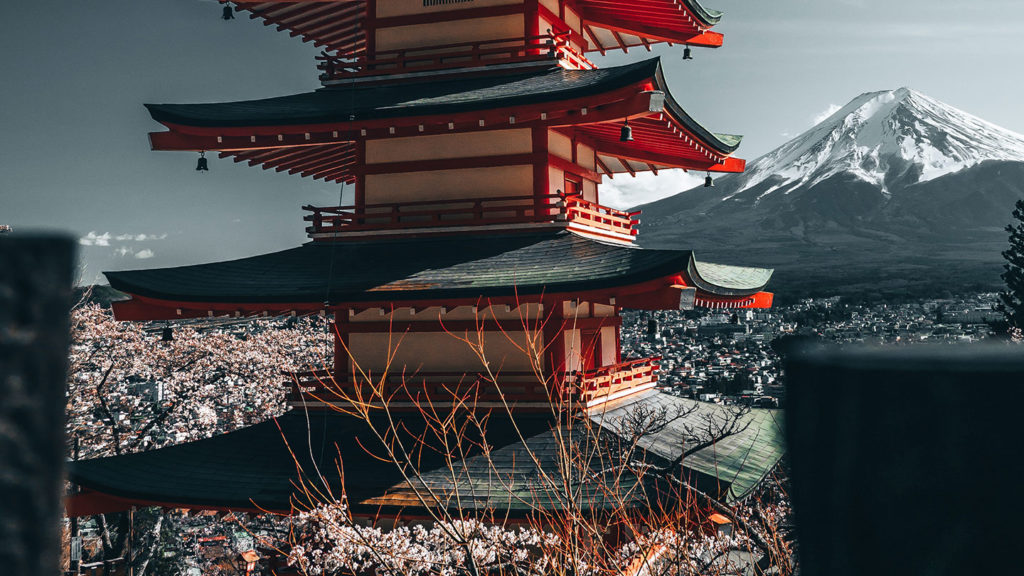 4. Lake Kawaguchi
The second largest of the Fuji Five Lakes region, Lake Kawakguchi is a popular hot spring resort town and throws an amazing cherry blossom festival each year. Cast your eyes across the lake to see magical Mount Fuji through the morning mist, wander along a 1km stretch of cherry blossoms, soak in an onsen and experience the Fuji Kawaguchiko Cherry Blossom Festival, held annually during the season.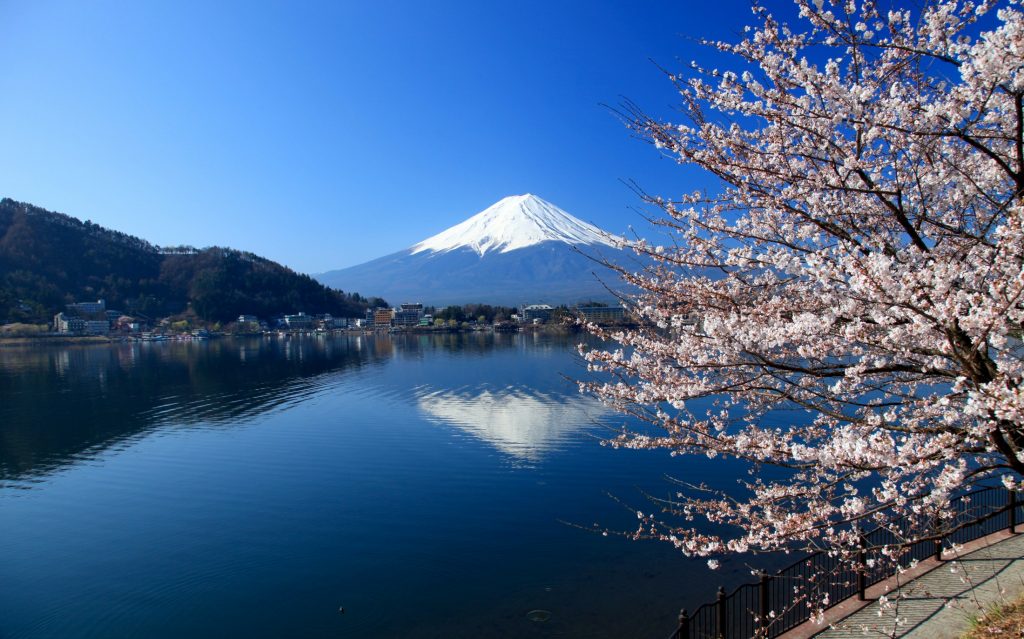 GET INSPIRED: Tokyo with Mount Fuji
Cherry blossoms in Kyoto
While Tokyo is the modern metropolis, Kyoto is where you'll experience the more traditional Japan. Bounce from teahouses to temples to immaculate gardens filled with cherry blossoms.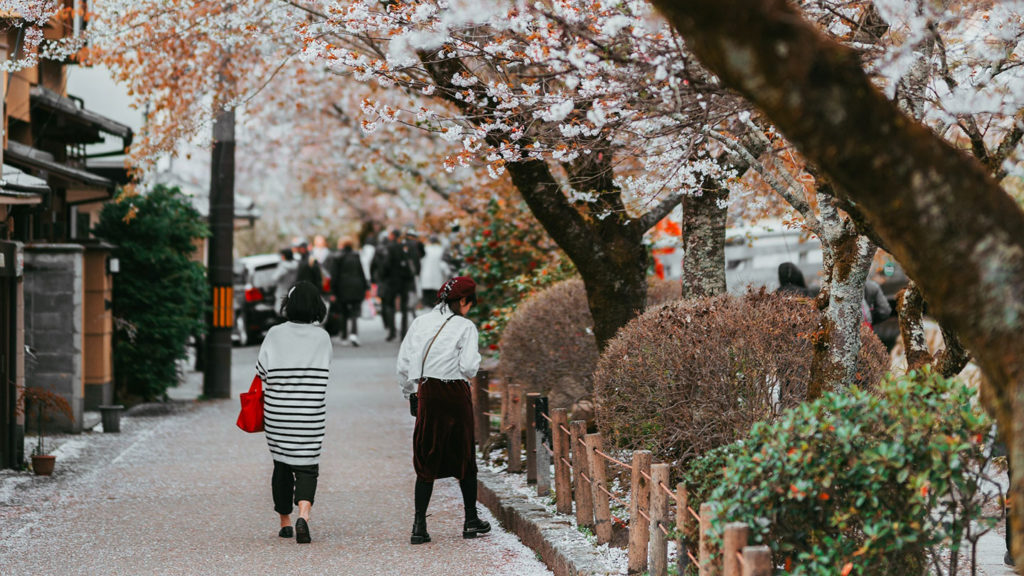 5. Maruyama Park
In Kyoto's Maruyama Park a tall shidarezakura weeping cherry tree is the centre of attention. Its blush blossom-covered branches bend towards the ground, and at night it is illuminated in all its Japan sakura glory. Be sure to seek out the Philosopher's Path, where hundreds of cherry trees line a peaceful canal path.
6. Arashiyama
On the outskirts of Tokyo, Arashiyama has a reputation for its cherry blossom trees. Wander around the Togetsukyo Bridge at the foot of Arashiyama mountains, through the riverside Nakanoshima Park, and have a hanami at the Daikakuji Temple. Best of all, take your loved one on the Sagano Romantic Train. It passes through a tunnel of sakura blossoms.
7. Nijo Castle
The historic UNESCO World Heritage protected Nijo Castle is the perfect backdrop for your cherry blossom photos. Within the castle grounds a huge variety of cherry trees have been planted. This means the sakura will bloom at different times throughout the season, increasing your chances of seeing blossoms.
RELATED CONTENT: From samurai to sakura, where to go and what to do in Japan
Cherry blossoms in Osaka
As Japan's third-biggest city, Osaka is more laid-back than fast-paced Tokyo. On our Classic Japan tour we start with an 'aqua-bus' along the Okawa River so you can get to know the major sights and take in the thousands of cherry blossom trees.
8. Kema Sakuranomiya Park
With almost 5000 trees lining the Okawa River, it's a must see in April during cherry blossom season. The endless rows of trees deserve a second viewing, so promenade along the river and through Kema Sakuranomiya Park. Here is the perfect lawn for a picnic or hanami.
9. Osaka Castle
The grounds of Osaka Castle are planted with more than 4000 cherry blossom trees. Take your picnic to Nishinomaru Park, located in the castle's western area. Here wide lawns and views of the castle await. Do as the Japanese do and bring plenty of layers so you can stay to watch the castle light up at night.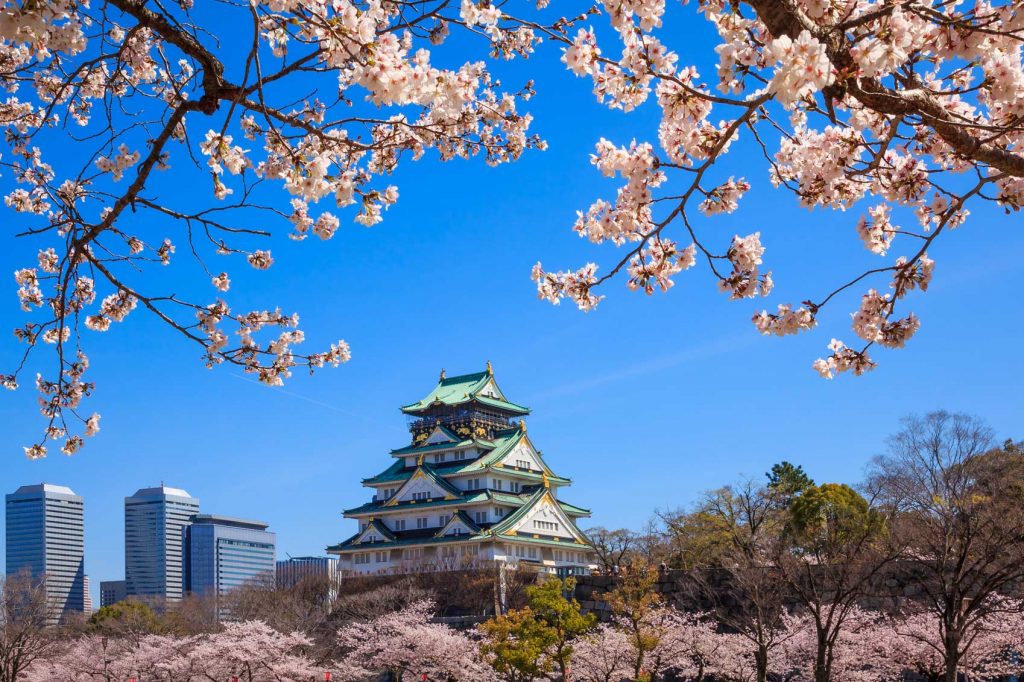 Ready for a cherry blossom adventure of your own? Head over to Trafalgar's website to book your Japan 2022 or 2023 tour today…