Offering epic travel adventures, diverse scenery and amazing food and wine, it's easy to see why New Zealand is at the top of so many travellers' bucket lists. The perfect place to start is the city of Christchurch, in the South Island.
Known as the 'Garden City' due to the many parks, gardens and tree lined streets, Christchurch is also a city of resilience, strength and urban regeneration. The 2011 6.3 magnitude earthquake that shook the city to its core and killed 185 people, also resulted in spurning a number of creative and imaginative projects focused on re-building the city to its former glory. The champion of these projects, is Christchurch's cardboard cathedral.
1. Why is it called the cardboard cathedral?
The Christchurch Cardboard Cathedral received its named from one of the main materials used to build this transition icon for the city. Due to the devastating 2011 earthquake damaging much of the original cathedral, the new traditional cathedral was created as a symbol of "moving on and new beginnings" for the citizens of Christchurch.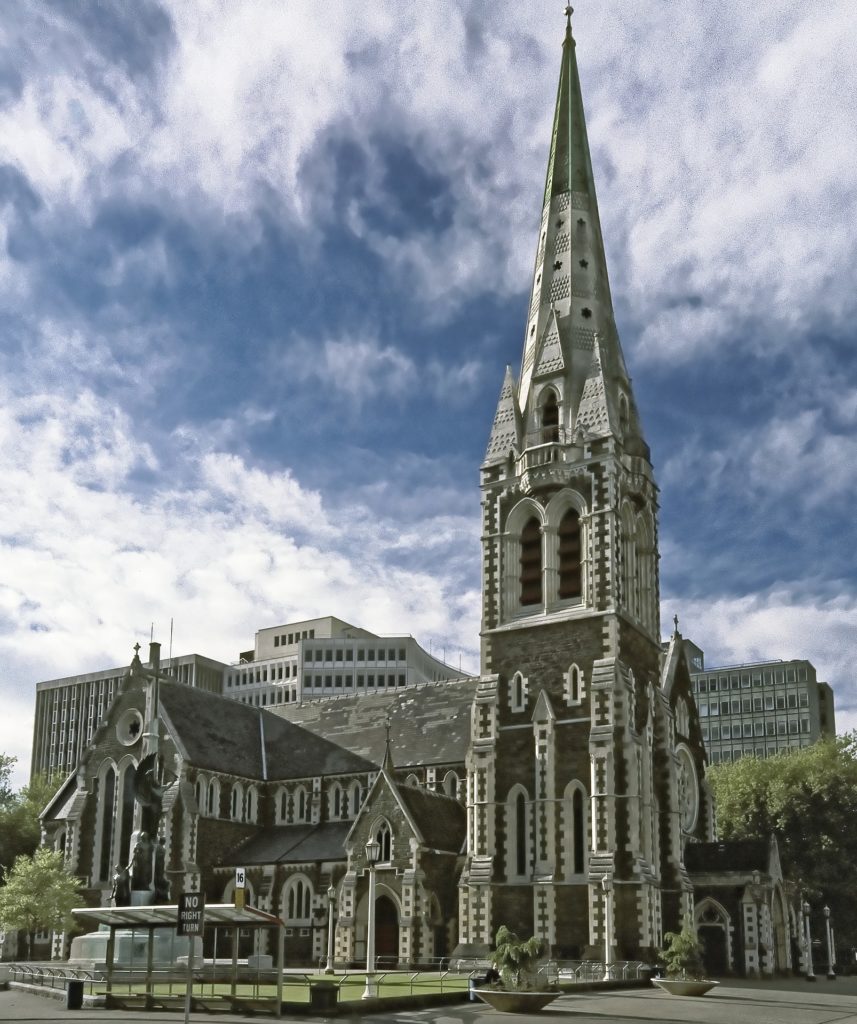 2. How old is the Christchurch Cathedral?
The original Christchurch Cathedral was built in 1865 in Cathedral Square, the heart of Christchurch. It was originally designed by Sir George Gilbert Scott in collaboration with Benjamin Mountfort, and was built as a place of worship for Anglicans. After the earthquake in 2011, debates started over whether or not to demolish the original building as renovations to the original structure were going to be very expensive.
RELATED CONTENT: Why I'll never tire of being a Travel Director in New Zealand
3. When was the cardboard cathedral built?
Renowned Japanese architect Shigeru Ban, designed the stunning new structure which opened to the public in October 2013, with seating for around 700 guests. The transitional cathedral was built with rows of cardboard tubes as well as wood, steel and polycarbonate. Final touches on the new building included striking multi-coloured stained-glass windows. The new structure is the world's only cardboard cathedral ever created and possesses elements of both innovation and sustainability. Ban has received many prestigious international awards for his work behind this unique structure and it's easy to see why it's one of the top tourist attractions for the city.
GET INSPIRED BY: Southern Stories
4. Has Christchurch Cathedral been rebuilt?
The Christchurch Transitional Cathedral was designed and built as a temporary or transitional replacement. Earlier this year, the "Christchurch Cathedral Reinstatement Project" began work to refinish the original cathedral back to its former glory. The new design will mimic the 19th-century style and also include new modern construction elements and features to improve safety, function, flexibility and more comfort for guests and visitors. It is estimated the project will take between 7 to 10 years to complete.
Have you visited the Christchurch Cardboard Cathedral before or planning an adventure here in the near future? Share your thoughts in the comments below.