When you think of Italian food, the first dishes that spring to mind are pizza and pasta. But Italian food is much more diverse than that. There are twenty regions in Italy that each has their own distinct way of preparing food and their own culinary traditions. We're highlighting five of them this week.
 Tuscany
Tuscan food is known for its simplicity and use of locally grown ingredients. Tuscans tend to sprinkle their dishes with rosemary and sage, herbs that grow all over Tuscany. The region is also famous for its truffles, saffron and porcini mushrooms, ingredients you'll be sure to come across when eating in authentic Tuscan restaurants.
Sardinia
Being an island, Sardinian dishes are all about the seafood. Besides freshly caught fish, clams and crabs, menus in Sardinian restaurants will most likely feature dishes like cassola, a fragrant fish and seafood soup, burrida which is a shark chowder and oven roasted aragosta arrosto which is a rock lobster half topped with a crunchy, seasoned breadcrumb layer.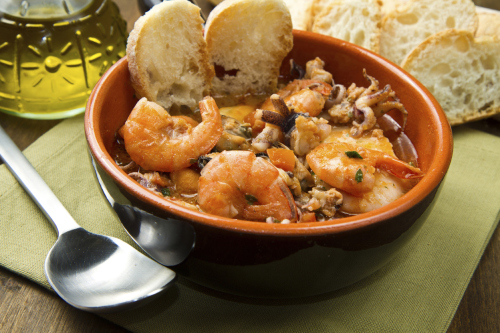 Veneto
Thanks to the trading power of the Venetians in the past, food in Veneto is heavily influenced by cooking traditions from around the world. This region was the first in Europe to put rice dishes on the table and risi e bisi, riso e trippa and risotto are still staple dishes of the Veneto region. Polenta, which is a yellow corn cake, is also very popular here. It's a garnish that is paired with many Veneto dishes.
Abruzzo
Abruzzi cooking consists mostly of hearty and filling meals. Dishes that hail from this region are zuppa di cardi which is a soup filled with cardoons, potatoes and pork or zuppa di lenticchie which is a lentil soup with pork chestnuts and tomatoes.  Another Abruzzo favourite is agnello alle olive; slow cooked lamb in a clay pot.
Lazio
Home to the capital of the country, food in Lazio usually consists of fresh produce, brothy soups and lots of pasta dishes. A meal in Lazio often starts with platters full of antipasti; freshly baked breads, cured meats and grilled veggies etc. Pasta dishes in Lazio typically contain pasta tubes so bucatini or penne all'amatriciana are local favourites.