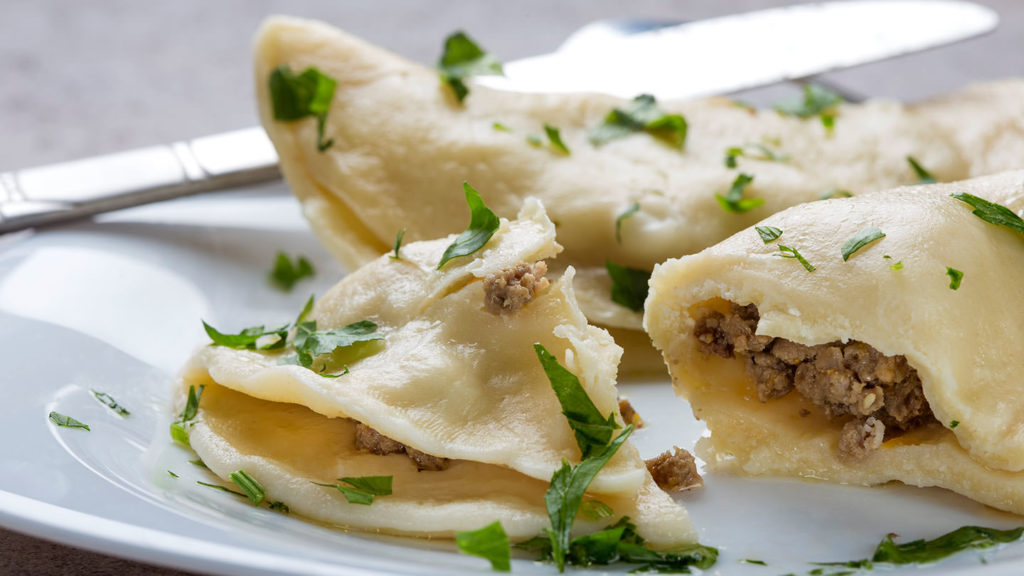 Also called perogi or perogy, Polish pierogi (pronounced pih-ROH-ghee) or homemade pierogies are small half-moon dumplings. They're also chock-full of fabulous fillings.
Interestingly, the word pierogi is actually plural. But the singular form pieróg is hardly ever used. Perhaps that's because it's simply impossible to eat just one. Forget it.
Here's all you need to know about Poland's favourite dish:
A brief history
Many believe that Poland's rib-stickingly good national dish has its roots in the Far East. A version of Chinese dumplings brought back to Europe, via Italy, by Marco Polo in the thirteenth century. Others think the Tatars brought pierogi west from the former Russian Empire. Popular legend, however, credits Saint Hyacinth, the patron saint of pierogi, for bringing pierogi to Poland from Kievian Rus, now Ukraine. Whoever, whenever – we clearly have a great deal to thank them for.
While the exact origin of the dish remains unknown, it's likely to have originated somewhere in Central or Eastern Europe. We now see similar dishes across the globe, for example, Italian ravioli, Japanese gyoza and Mexican empanadas.
Pierogi by any other name would taste as good
You can find versions of Poland's favourite dumplings throughout Europe, most notably in neighbouring Belarus, Slovakia and Ukraine. Each of these has its own name or variation of spelling for these moreish snacks. You'll be ordering pirohy in Slovakia and pirogge in Germany – while Canadians and Americans, who trace their roots back to Poland and Ukraine, have developed a long term love affair with homemade perogies.
In fact, Canadians love perogies so much, that the small town of Glendon in Alberta, erected a 27-foot tall statue of a perogy in 1993. The United States went as far as declaring 8 October 'National Pierogi Day'. This gives you an idea of this much-loved dish's popularity and heritage.
Regardless of how you choose to spell it, pierogi are the very definition of comfort food. Think pillow-soft dumplings, oozing butter, filled with deep flavours and often served with a smorgasbord of toppings or sides (often crispy bacon and sour cream).
Baked, boiled or fried pierogies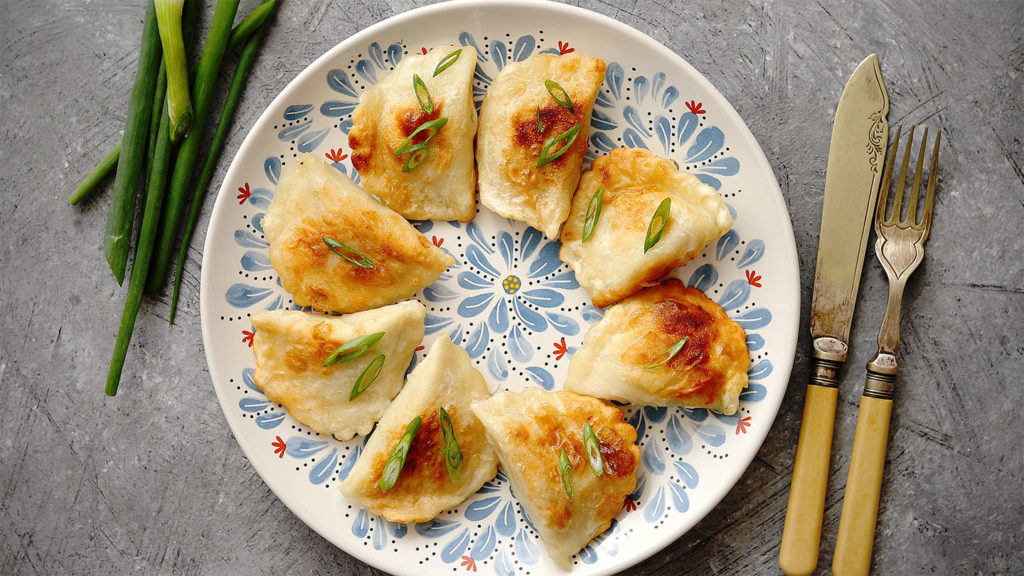 With an endless array of cooking styles, flavours and fillings, Polish pierogi will not disappoint. People have been experimenting with different variations of homemade pierogi for hundreds of years. Eat them warm, cold, baked, fried or boiled, whatever's your poison.
Perhaps the most popular method, however, is to boil the dumplings before sautéeing them in a pan. Add to that lashings of butter (we did say comfort food after all), and you've got one soul warming snack.
You can also bake Polish pierogies in the oven, which leaves them golden brown and crisp on the outside.
A pierogi for every occasion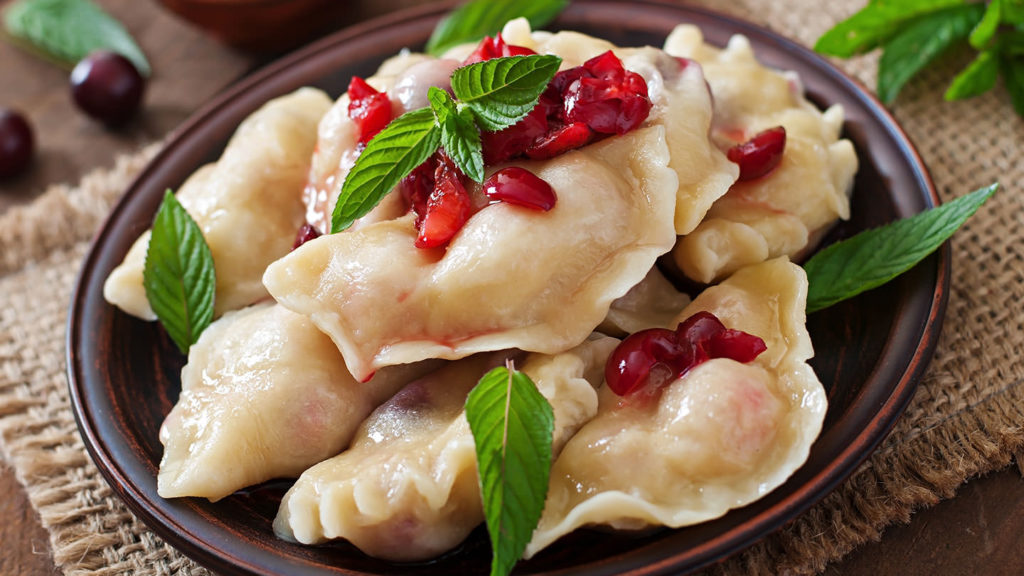 The word pierogi (and its half-dozen variant spellings) comes from the Slavic word 'pir' meaning 'festivity' or 'festival', And there's no doubt that Polish pierogi is a favourite dish for any celebration. Christmas pierogi are often filled with sauerkraut and mushrooms, whilst Easter pierogi are stuffed potato and cheese. Important events like weddings or wakes, also call for their own special type of pierogi.
Best of all, seasonal fruits like plums, apricots, blueberries, cherries and strawberries can elevate humble homemade pierogies to a whole new level of deliciousness. Just add a dollop of cream and a sprinkle of sugar, and you've got the perfect dessert, come winter or summer.
RELATED CONTENT: Poland Travel Guide – Everything you need to know
The secret to perfect Polish pierogi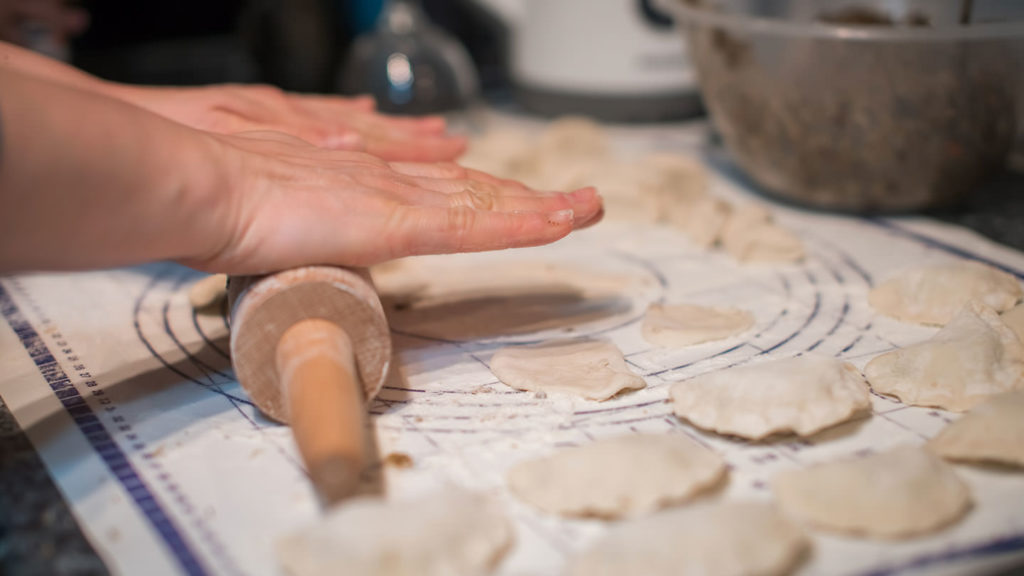 The secret to delicious homemade pierogies, baked or fried, is in the dough. For the softest, lightest dough (whatever combination of flour, water, eggs, salt or butter the recipe calls for), remember to knead gently. Perogies that are 'over-handled' will tend to be heavy and chewy. So, make sure you apply the deftest touch and knead as gently as possible before allowing the dough to rest.
Don't be put off. Although pierogi fans insist the technique is easy to learn, you might want to leave it to the experts. Homemade pierogies eaten in Poland are hard to beat, but not as tough to eat.
Finally, our favourite fillings? Try these irresistible combinations:
Mashed potatoes and cream cheese (also known as 'Ruskie pierogi' or 'Russian pierogi'). Or with cheese and onion. Or with sauerkraut.
Cooked mincemeat with sauerkraut and mushrooms.
Slow-roasted meat (of your choice) and potato.
Potato, mushroom and caramelised onion.
Cheddar pierogi with sage butter sauce.
Spinach and artichoke pierogi.
Lemon blueberry pierogi with sugar and cream.
GET INSPIRED BY: Best of Poland
Have you sampled traditional Polish pierogi? We want to know all about it. Let us in on your favourite fillings in the comments below…