If Canada means one thing, it's invigorating adventures in the great outdoors. With rugged, dramatic landscapes, mountainous terrain and over 560 lakes, it's home to some seriously show-stopping scenery. Azure blue, almost Caribbean in colour and all glacially calm, these Canadian lakes look inviting enough to plunge into. Being alpine lakes, however, a kayak – not a swimsuit – is the order of the day. Here are five of the country's most stunning lakes that'll guarantee you'll want to visit.
Lake Louise, Alberta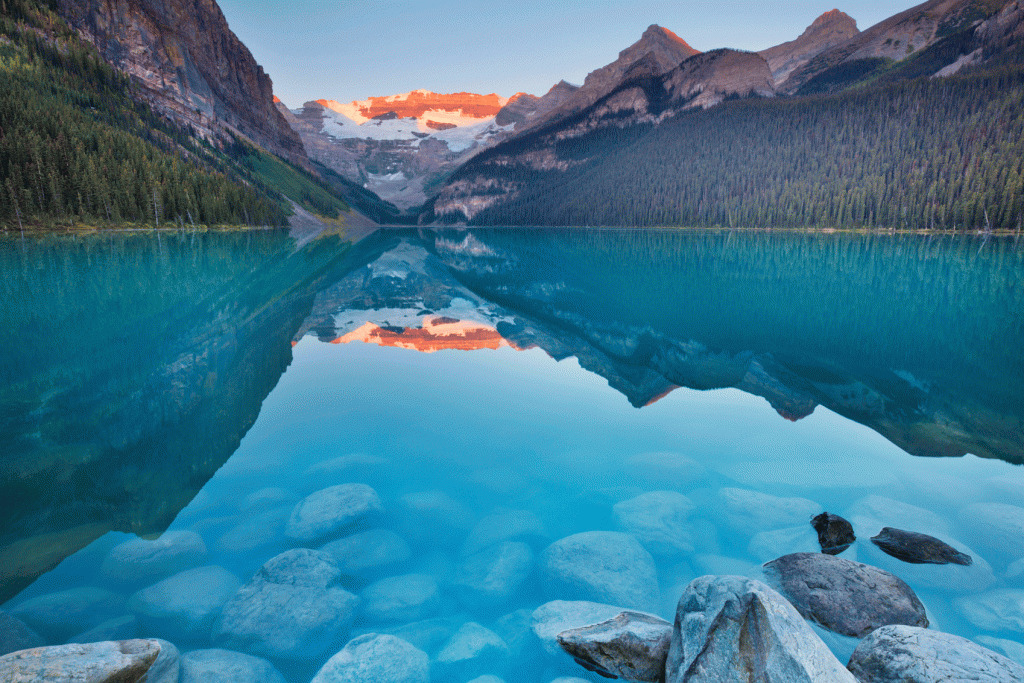 Glacial waters make for exceptional, almost tropical colours at Lake Louise. Part of Banff National Park, the square mile-wide expanse sits at the foot of Fairview Mountain and is one of Alberta's most beautiful spots. Trails surrounding the perimeter make it a great place to take a scenic stroll around. In the winter, the frozen lake transforms into a skating rink making it a must-visit whatever the season.
Lake Maligne, Alberta
Something of a landscape celebrity, Alberta's Lake Maligne is one of the most photographed natural places in the world. Its striking turquoise waters and the beguiling Spirit Island just off the northern shore certainly lend to its breath-taking beauty. Jasper National Park, Lake Maligne is framed by green pines and the craggy peaks of Maligne mountain.
Lake Ontario, Ontario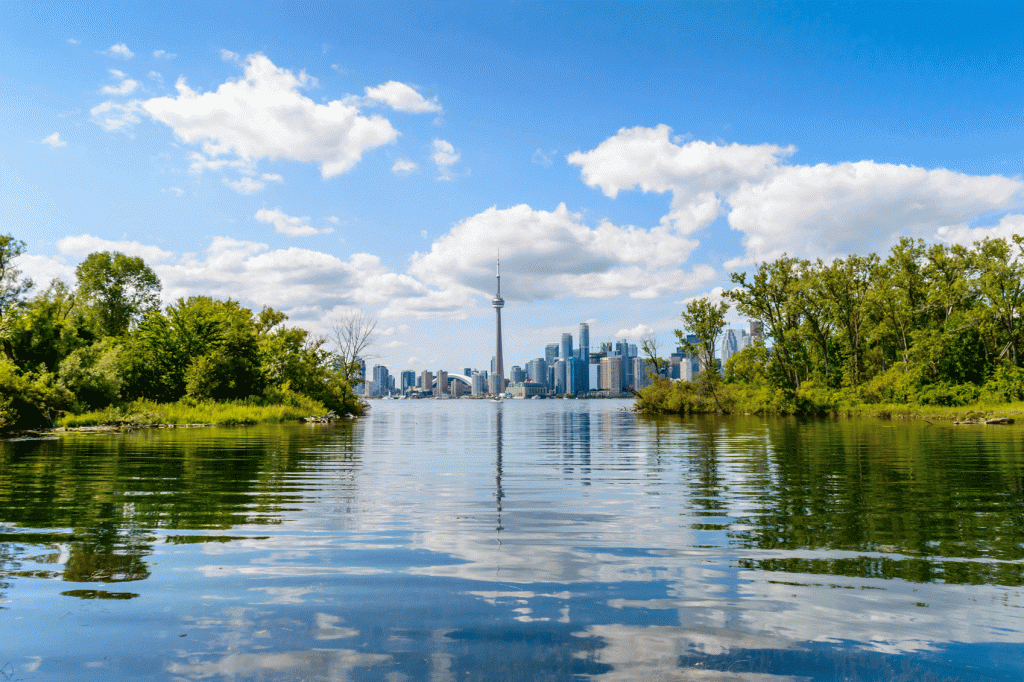 Lake Ontario, the furthest, is home to major cities like Toronto, and New York state in America. Measuring almost two-hundred miles in length, it's an enormous watery expanse, the 14th largest lake in the world in fact. Its name comes from the Iroquoian language, meaning 'Lake of Shining Waters.'
Lake Moraine, Alberta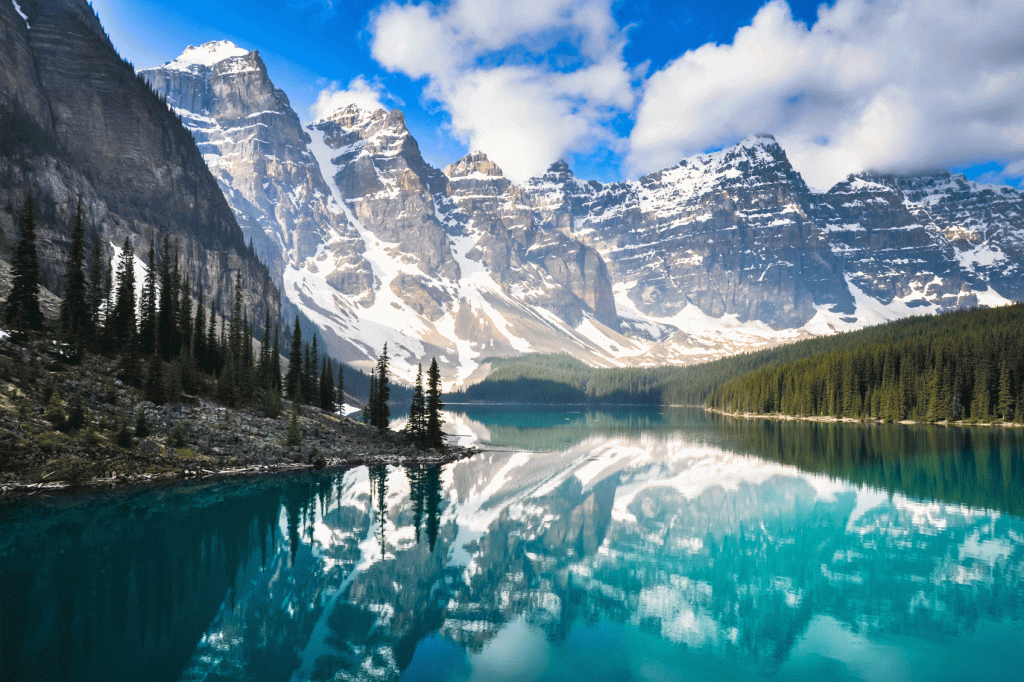 Cradled between the Valley of the Ten Peaks within Banff National Park, Lake Moraine is surrounded by rugged mountains. If you're fond of sliding down the snowy slopes then Lake Moraine may already be on your radar for its world-class skiing. However, it really comes into its own in the summer once the snow has thawed and the lake's deep blue hues are visible.
Lake Waterton, Alberta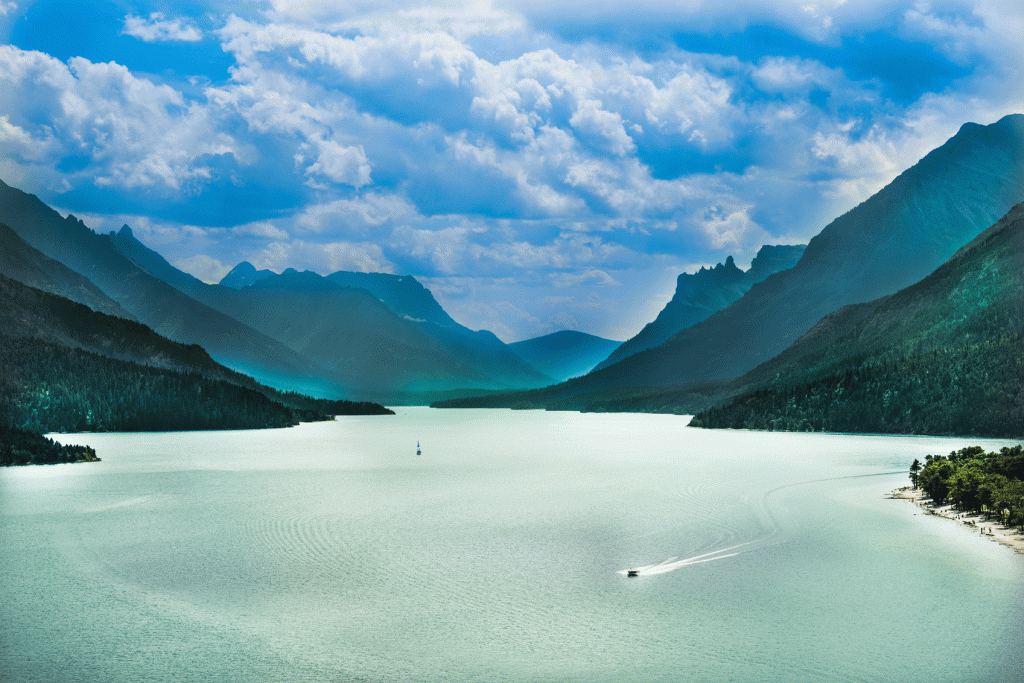 A somewhat quieter spot than many of Canada's greater lakes, Lake Waterton marries unusual geology and a mild climate with an abundance of wildlife. It's characterised by two bodies of water (one horizontal, one vertical) connected by the narrowest of channels (known to locals as the Bosporus) and is the deepest lake of the Canadian Rockies. Exceedingly picturesque, Lake Waterton's coasts are lined with trees, and due to its isolated nature, it enjoys relative peace and quiet away from the tourist trail.
If you'd like to experience the majesty of Canada's lakes for yourself, click here to discover how a Trafalgar tour can help you do just that.
Image Credits: Main image (Lake Moraine) © iStock/Sara_Winter. Lake Louise © iStock/Sara_Winter. Maligne Lake © iStock/GlowingEarth. Waterton Lake © iStock/Azarsystem. Lake Ontario © iStock/HonestTraveller. Lake Moraine ©