Denver, Colorado: Friday 24 May
We arrived in Denver and checked into the Grand Hyatt Denver – very nice hotel but no free internet in the rooms, only in the foyer. Jean and I had a walk around the pedestrian shopping mall on 16th Street, which felt a bit like the Bourke Street Mall in Melbourne. We had dinner at the Cheesecake Factory; the meals were huge! Jean had two containers of food and ended up giving them to the homeless people who were going through the garbage bins. Denver is a very lively city at night, with lots of street performers and people playing the pianos placed along the street, but it has the worst homeless problem I've ever seen.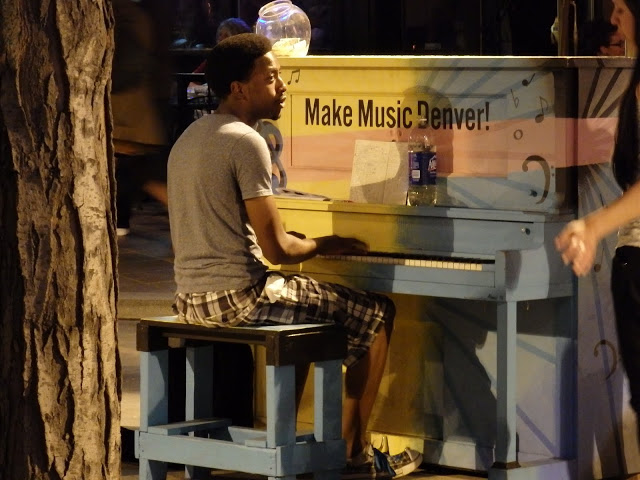 We travelled through three states today – South Dakota, Wyoming and Colorado! Also travelled to warmer weather, Denver was lovely and warm – around 85 F (24C).
Moab, Utah: Saturday 25 May
Leaving Denver we were quickly in the Rocky Mountains (we did listen to John Denver on the bus!) and the snow covered mountains were spectacular. We had a 40 minute stop in the ski town of Vail. What a lovely town – it looked very much like a European village with cobblestone streets and German/Austrian style chalets.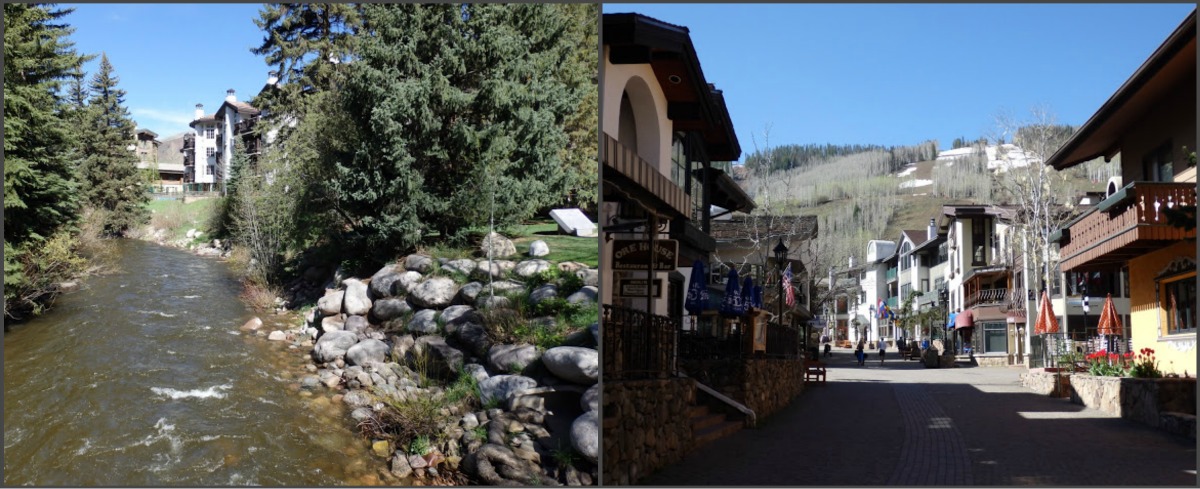 After reaching the highest point of Eisenhower Pass (11,113ft) we began the descent through the snow covered mountains and eventually through a narrow pass with incredible high walls. The scenery was stunning.
The scenery changed as we left the Rockies behind and the snow gave way to rocks and red soil, and eventually large rock formations. We entered Arches National Park and drove to a large rock arch called the window and went for a walk on a trail through the dessert wildflowers up to the arch.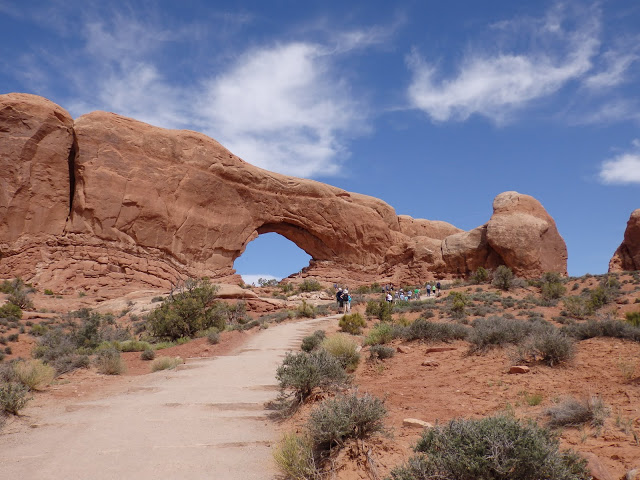 After freezing in Yellowstone a couple of days ago we're back to the heat, the temperature at Arches National Park was 92 F (33C).
We reached Moab and checked into the Best Western Canyonlands Inn. After relaxing at the hotel hotel we left for the optional jet boat ride along the Colorado River. When we first saw the boat we didn't think it would go very fast…we were wrong! It was a wild, exhilarating ride with my hair blowing in the wind and the water spraying on my legs. Again the scenery was spectacular, with high vertical walls of rock along the river. The boat driver stopped a few times to point out things, like the Indian rock drawings (that were difficult to see). The boat ride was followed by a delicious included dinner.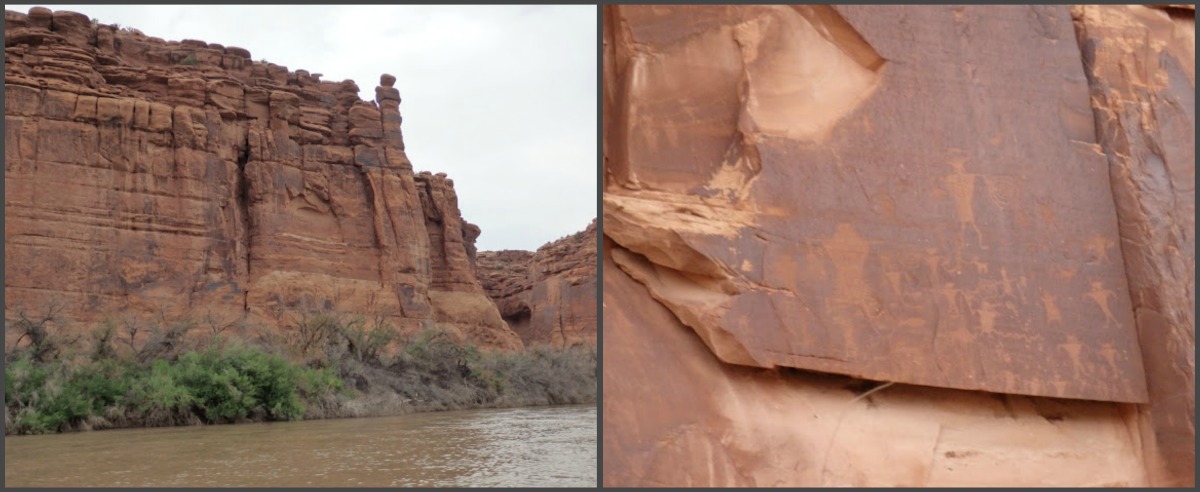 Monument Valley, Utah: Sunday 26 May
Today we started in Utah, travelled through Arizona and finished back in Utah.
We made a stop at a supermarket to pick up supplies for lunch, and then we travelled on to Mesa Verde National Park to see the cave dwellings built into the cliffs. It was a very winding road to the top of the mesa, with lots of hairpin bends and we saw some wild horses that live on top of the mesa.
We made a photo stop to view the cave dwellings at Cliff Palace and travelled a bit further to Spruce Tree House for lunch. There was a very steep path that led down to the cave dwellings. There was a good view from the top of the path so I took photos there and spent some time photographing the wild flowers.
Later we entered the Navajo Indian Reservation and made a photo stop at the spot where Forrest Gump stopped running in the movie – I'm not a fan of that movie but the backdrop was incredible.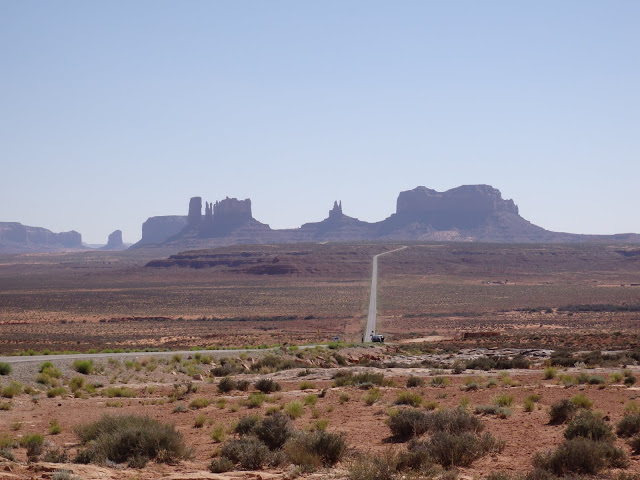 Gouldings Lodge, our hotel in Monument Valley, is in a great location, it's set right up against a giant wall of red rock. At 6.30pm we boarded small open air buses and the Navajo took us on a track through the red sandy soil – lots of red dust with the wind blowing it in our faces. We drove through the canyons between huge boulders and sheer cliffs until we reached the site for our barbeque dinner.

Grand Canyon National Park, Arizona: Monday 27 May
We drove over bumpy dirt roads through Monument Valley – the scenery was incredible – if you've ever watched an old cowboy movie (especially with John Wayne) you would have seen Monument Valley!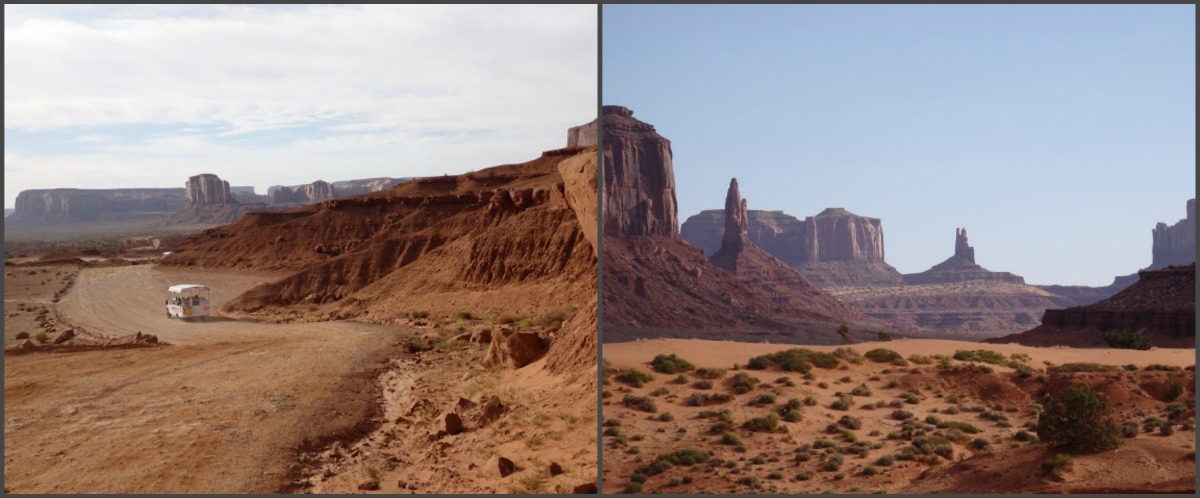 After arriving at the Grand Canyon we stopped at Desert View lookout, where there was a tower that gave great views over the canyon. We also stopped at the Grand Canyon visitor's centre and a few people walked part way down the Bright Angel trail.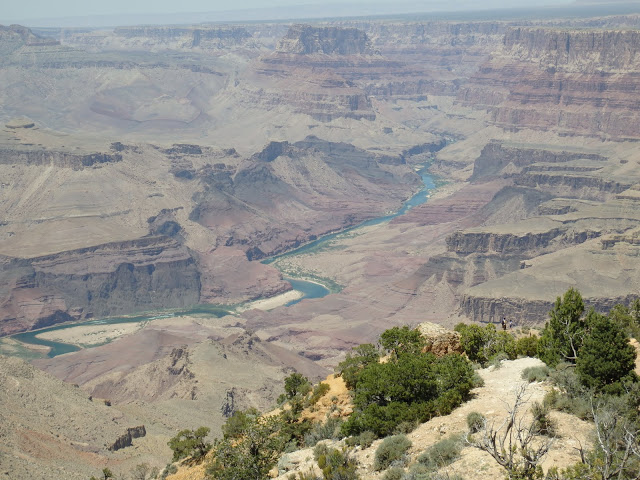 That evening we enjoyed an information session about rocks and the formation of the canyon as the sun started to set, followed by our Farewell Dinner.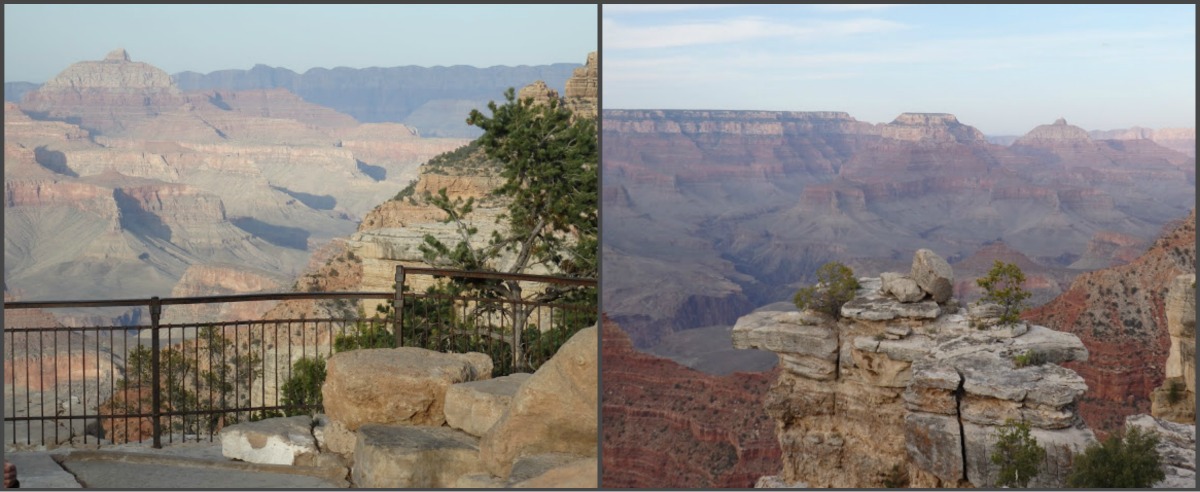 Las Vegas, Nevada: Tuesday 28 May
Sunrise was at 5.13am today and Don had pointed out the track to walk for those who wanted to watch the sun rise over the Grand Canyon. Nobody actually made it there for sunrise!
Today was just a travel day to get back to Las Vegas. No spectacular scenery but we did travel along part of Route 66 and our morning stop was at the small town of Seligman that looked like it was stuck in the 1950s – lots of Route 66 souvenirs. We made a lunch stop at Kingman. Later we got some glimpses of Hoover Dam and Lake Mead from the highway.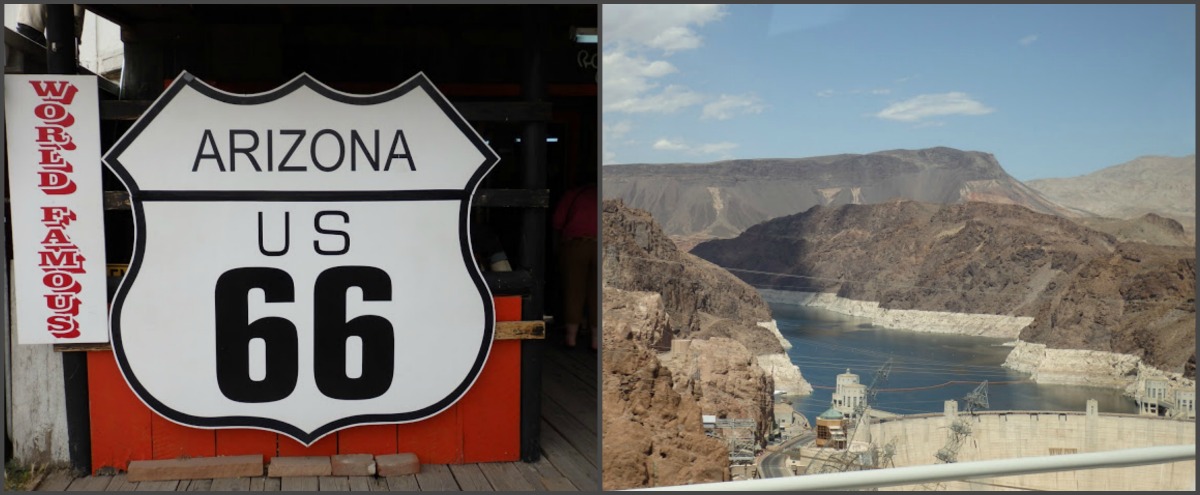 We reached Las Vegas, where it was time to say goodbye to our wonderful Travel Director and driver, who'd safely driven us over 3,000 miles (close to 5,000 kms).
I had a great time on this tour. It was everything I expected. I had high expectations of Yellowstone National Park and I was not disappointed. I had expected to see some snow on the mountain tops but had not expected it to be snowing in Yellowstone – that was a bonus!
All the accommodation was of a very good standard. All our rooms had two double or queen sized beds. Internet was available in most rooms, or it was available in the foyer. From memory the only place where it wasn't available at all was at Yellowstone.
A big thank you to Jean, who was a great travel companion and a lot of fun.  And we're still friends after sharing a room for over two weeks! Also thanks to our wonderful Travel Director, Don, and driver, Robert. Their combined skills, knowledge and friendly personalities made it a pleasure to travel with them every day.
Jenny D, Australia
If you enjoyed reading Jenny's experience and would like to learn more about our 'Scenic Parks Explorer' itinerary, click here. Or for more information about Trafalgar's guided vacations, head to our website: www.trafalgar.com