Newly-named North Macedonia, once part of the former Yugoslavia, boasts some of the most beautiful scenery on the Balkan Peninsula. We love it so much, we wanted to share our 5 reasons to visit Skopje, its underrated capital, which lies at the heart of the Balkans.
1. It has a long history, rich with customs and traditions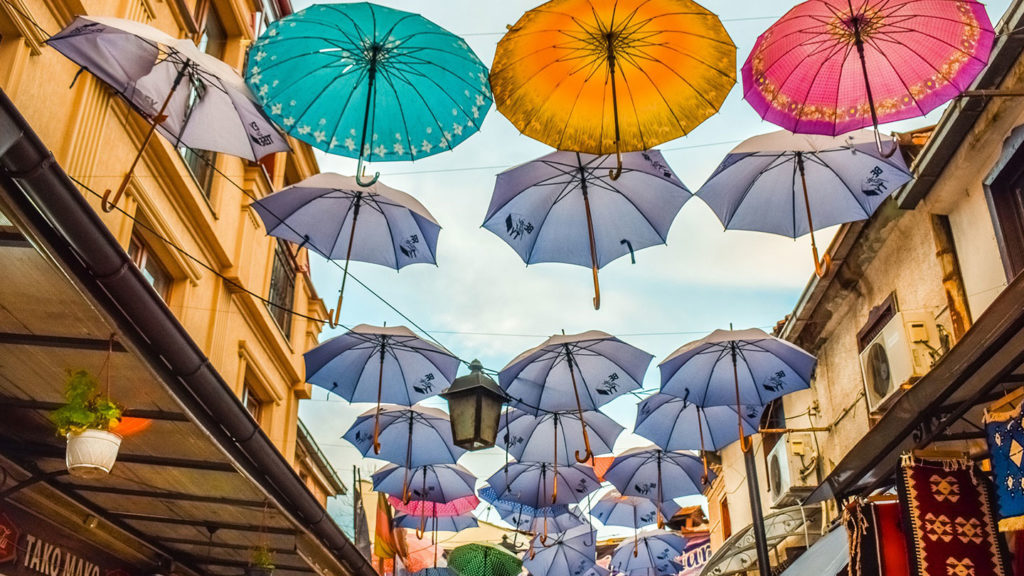 Archaeological evidence shows that civilisations flourished in North Macedonia as early as 7000 years BC.
If you're a history buff, that means you'll simply adore Skopje's many Dardanian and Roman-era archaeological sites, Byzantine churches and monasteries. Also on the amateur historian's checklist has to be the city's extraordinary Ottoman heritage and 'blocky' Brutalist structures, which hark back to Macedonia's Yugoslav era.
Dating back to the Byzantine rulers of the 6th century, Kale Fortress should certainly be on your Skopje sightseeing list. A walk up Kale Fortress's ancient walls guarantees beautiful views over the entire city and the Vardar River. It's certainly one of our favourite spots.
Meanwhile, the Old Bazaar (or Carsija) has been the city's centre of trade and commerce since the 12th century. Here you can visit the area's mosques, tombs, bathhouses and churches. Or simply potter around the shops, looking for souvenirs, folk costumes and traditional jewellery.
In addition, look out for Skopje's Stone Bridge. This stunningly photogenic bridge spans the Vardar River and is just another reason to visit Skopje.
2. It has an unusual collection of monuments and memorials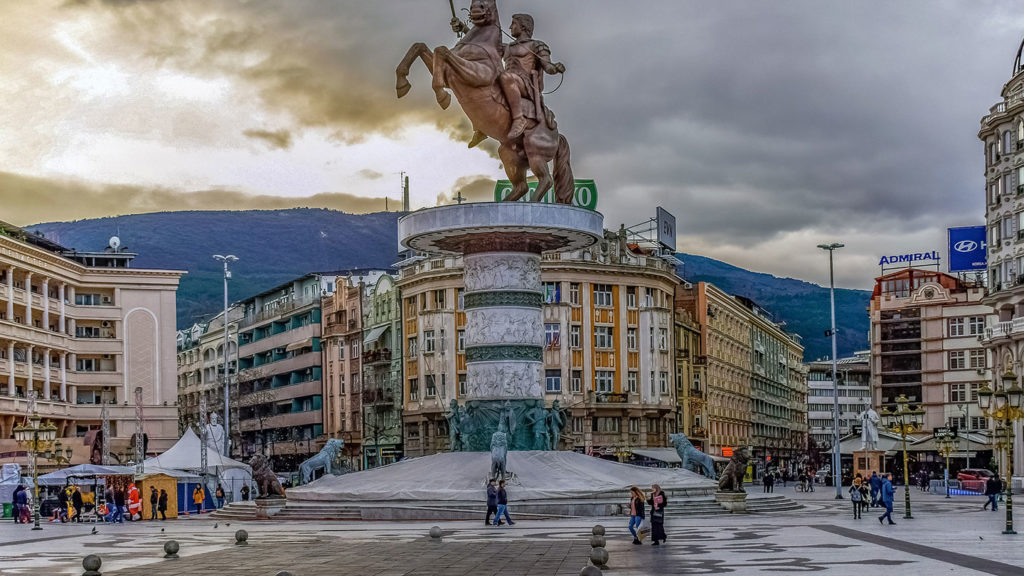 Interestingly, Skopje is known as the 'city of statues'. A massive earthquake destroyed most of the city's historic monuments in 1963 (in fact, about 80% of the city was destroyed). Some 40 years later, the government embarked on a controversial project to 'repopulate' the city with statues. Above all, this was in the hope that they could instil some national pride.
The result is a largely weird and wonderful collection of statues, which confound locals and visitors alike. Make sure you tick off the following life-size, marble and bronze Skopje attractions during your sightseeing tour:
The Equestrian Warrior
The Beggar
The Two Girls
Tree Man
Girl with Guitar
The Pirate Ships of Skopje
There are almost 300 statues! You might not spot them all, but you'll certainly have fun trying.
3. Mount Vodno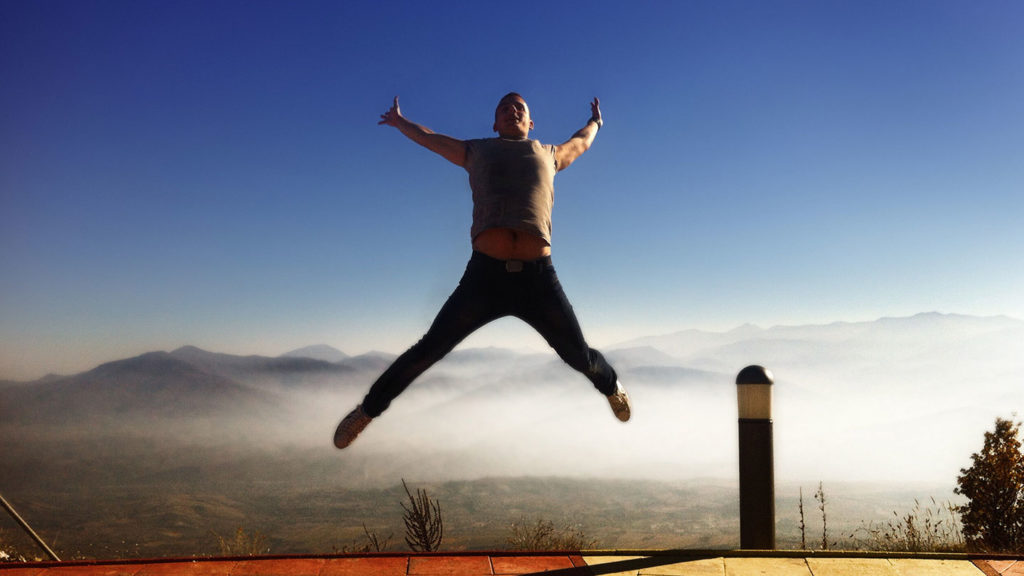 It's impossible to miss Mount Vodno. Just 15 minutes outside of the city, it dominates Skopje's skyline – just begging to be climbed.
Active travellers can follow well-marked trails over the slopes of Mount Vodno. The three-hour hike goes past homes and monasteries to the top of the mountain. Alternatively, a scenic cable car trip will get you to the top, for Insta-worthy shots of the Millennium Cross (at 66 metres high, it is one of the largest Christian crosses in the world) and panoramic views of Skopje.
GET INSPIRED BY: Balkan Adventure
4. It's affordable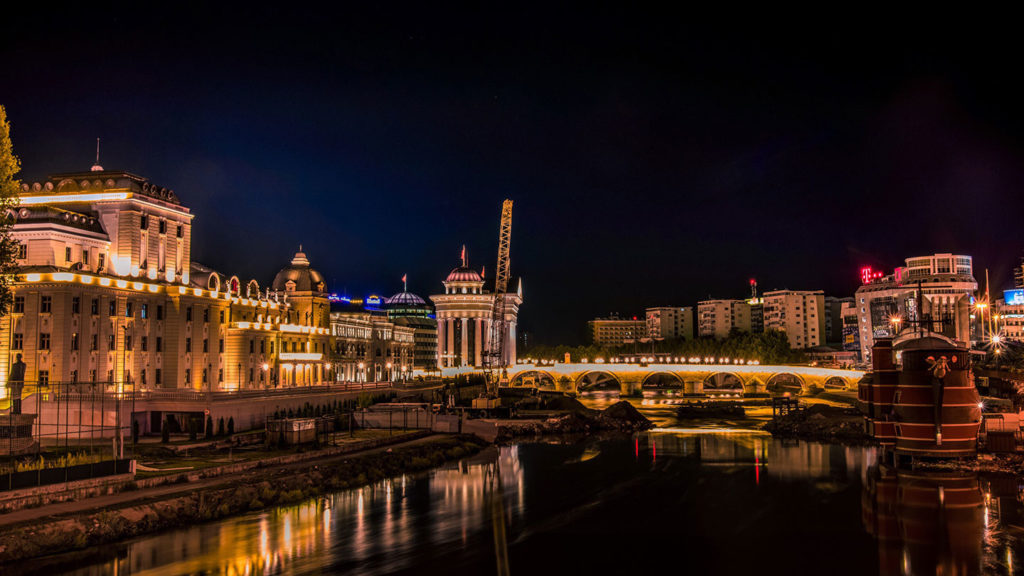 If you ever needed an excuse to visit Skopje, it is officially the cheapest city in Europe. When Wanderu published their research around the cheapest cities to visit in Europe, Skopje was in number one spot:
Skopje, Macedonia
Pristina, Kosova
Podgorica, Montenegro
Yerevan, Armenia
Chisinau, Moldova
Most notably, you can explore unique Skopje attractions, including its Old Bazaar, Fortress and Stone Bridge without breaking the bank.
RELATED CONTENT: 27 Reasons to visit Europe
5. It's a springboard to the most beautiful, unspoiled natural attractions in the Balkans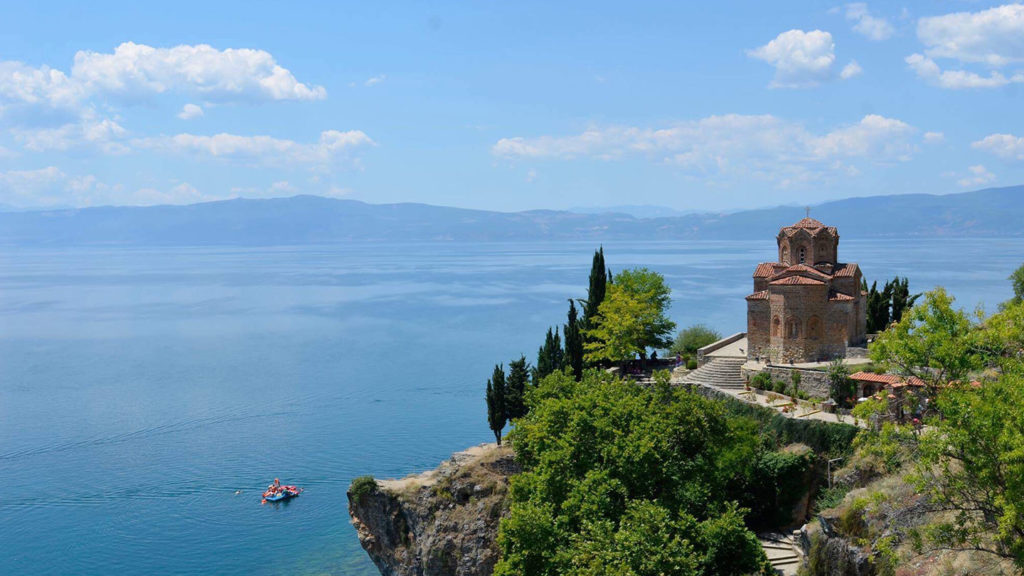 Skopje is a wonderful stepping off point to the region's mountains, villages and lakes, including the oldest lake in Europe, Lake Ohrid – a UNESCO World Heritage Site.
Lake Ohrid is only 120 km from Skopje, and visitors can take a sightseeing boat cruise on the lake to soak up the incredible natural scenery or enjoy paddling and diving excursions. If you fancy a dip in the oldest lake in Europe (scientists believe it was established 1.36 million years ago), the water temperature gets up to 23°C/73°F in summer!
Another reason to visit Skopje? Its food and wine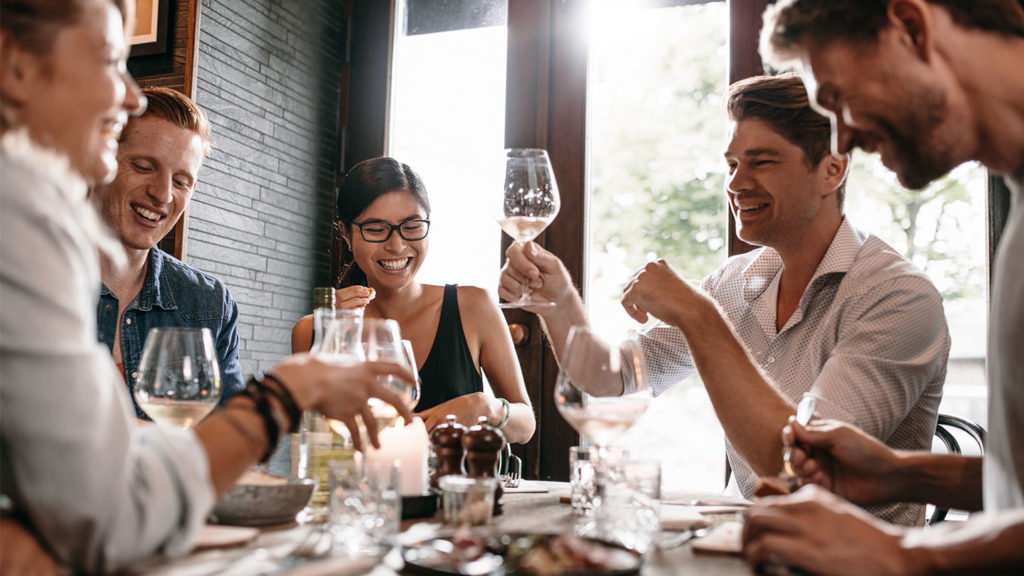 Traditional Macedonian dishes are generous and deliciously rustic, with Mediterranean, Baltic and Middle Eastern influences. Think grilled meat, fresh fruit and vegetables, stuffed peppers, moussaka and pot-baked beans. The local food is therefore rich and hearty. And Skopje has a wonderful selection of kafanas (traditional Macedonian restaurants) to sample it.
Beyond Skopje's fabulous food, you'll be seduced by its flourishing wine scene. Did you know locals have been growing grapes in this part of the world since the 13th century BC?
The country's Mediterranean climate (with 270 sunny days per year) combined with a rich terroir lends itself to full-bodied, fruity red wines, none more famous than Macedonia's deep-red, almost black, Vranec.
Once your stomach and soul have been fueled, you'll return to Skopje for more of the unexpected. This unusual capital city brims with history, deliciously rustic cuisine and out-of-the-ordinary sightseeing attractions. If it's not on your radar, it really should be.
Have you been lucky enough to visit Skopje? What are your favourite sightseeing attractions? Let us know why it's worth a visit in the comments below…