Stout, wheat, lager, pale ale, IPA – beer is one of the world's most popular drinks.
With Oktoberfest fast approaching, this week we're taking you on a journey – and raising a glass – to some of Europe's best beer-producing countries.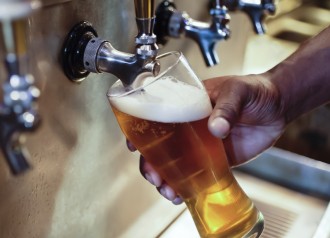 Germany
As the home of Oktoberfest, which originated in Munich, you can tell that beer is a huge part of the culture of Germany. It's here that you'll find the town with the highest density of breweries in the world.
Germany is also home of the beer stein: traditional stoneware mugs, which can be as large as a full litre, so watch out when you order!
Some of the bigger names in German beer that you'll find include: Becks, Paulaner and Erdinger.
Belgium
Another country where beer is deeply embedded into the culture is Belgium. In fact, beer used to be given to school children with their lunch!
Beer here is typically between pale lager to lambic and Flemish red. The latter is brewed to give it a distinctive dry flavour and a sour aftertaste. Look out for Trappist and Abbey beers – these are styles you can only find in Belgium.
Of the Belgian beers, you might have heard of Chimay, Hoegaarden and Leffe, but there's plenty more to choose from.
Czech Republic
Famously, beer is cheaper than water in the Czech Republic. Perhaps that's why the country drinks more beer per person than anywhere else in the world.
Their most common varieties of beer are pale lagers and pilsner, and their most renowned brands are Pilsner Urquell and Budvar (not to be confused with the American Budweiser).
United Kingdom
In the UK, beer is a huge industry, with craft beer and microbreweries having become increasingly popular over the past few years. This has resulted in an enormous selection of types and brands of beers for you to try. Here the varieties stretch to bitters, porters and stouts, as well as lagers.
Beer was the first alcoholic drink in the UK and to this day, finishes maturing in the cellar of the pub – a central part of British culture.
Although you'll never be short of choice, here are some potential options: Fuller's London Pride, Courage, Hobgoblin, Spitfire and Young's.
Ireland
You can't go to Ireland without supping a pint of Guinness, a dry stout made in Dublin. Despite their 1920s campaign 'Guinness is good for you', it may have a higher iron content than most beers, so we wouldn't go as far as to say it's healthy!
Other than Guinness' domination of most Ireland, further south, you can also find another couple of popular stouts, Beamish and Murphy's.
Have you tried any beers you loved while you've been travelling the world? Let us know below. Or if we've given you a thirst for a pint or two, check out our Imperial Europe or Britain and Ireland Highlights trips, which visit many of the countries which serve these beers.