The historic architecture is awe-inducing; the nature will leave you breathless. But when it comes to a European holiday, one of the standout highlights is always the food. With a diverse climate, varied landscapes and an eclectic mix of cultural influences, sampling the local cuisine is a crucial part of understanding the culture and history of Europe. And, whether you're a foodie or not, there are some regional dishes so scrumptious you might never want to leave. To lend a helping hand as your gastronomical guides, we've put together a list of some of our favourite foods in Europe you absolutely have to try.  
Fried pizza in Scotland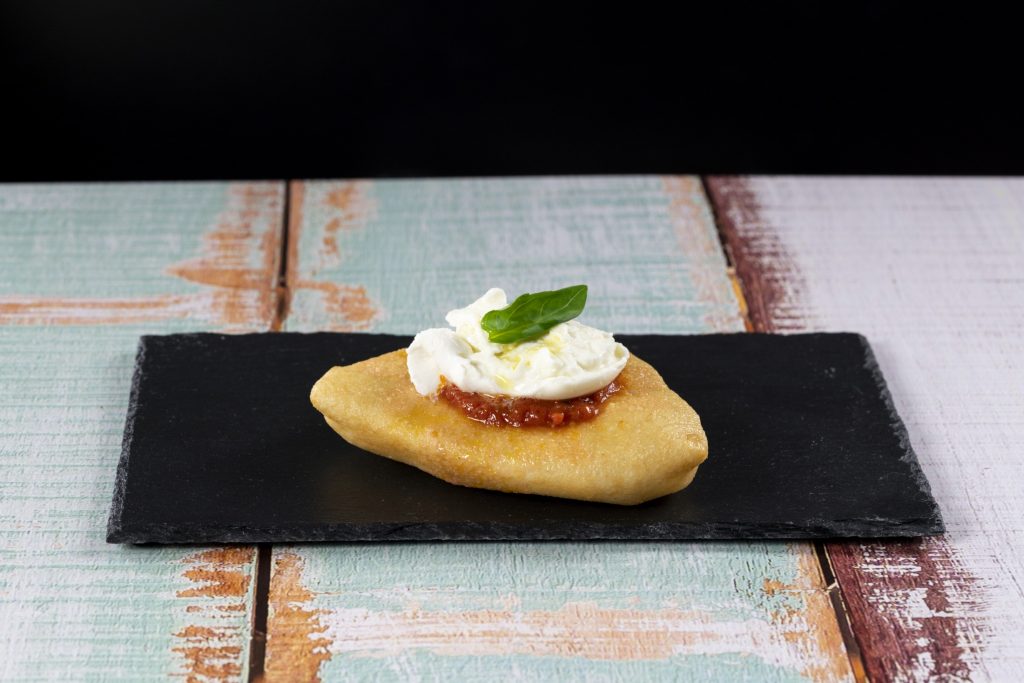 Haggis might be a taste you have yet to acquire. So, if you're not feeling adventurous enough to give that national treasure a try, we have another suggestion that will definitely please your palate (though the results on your waistline might be less ideal). No one is quite sure who stumbled on this brilliant calorie-laden hybrid, but fried pizza is now common practice in chip shops around Glasgow and the rest of Scotland. Known as a pizza crunch, slices of pizza are coated in battered and the fried to a golden brown. To pizza purists, this might seem like an abomination. However, even Napoli – the birthplace of pizza – has its own version of fried pizza called pizza fritta. 
Want to try a slice? Check out our Scotland trips.
Currywurst in Germany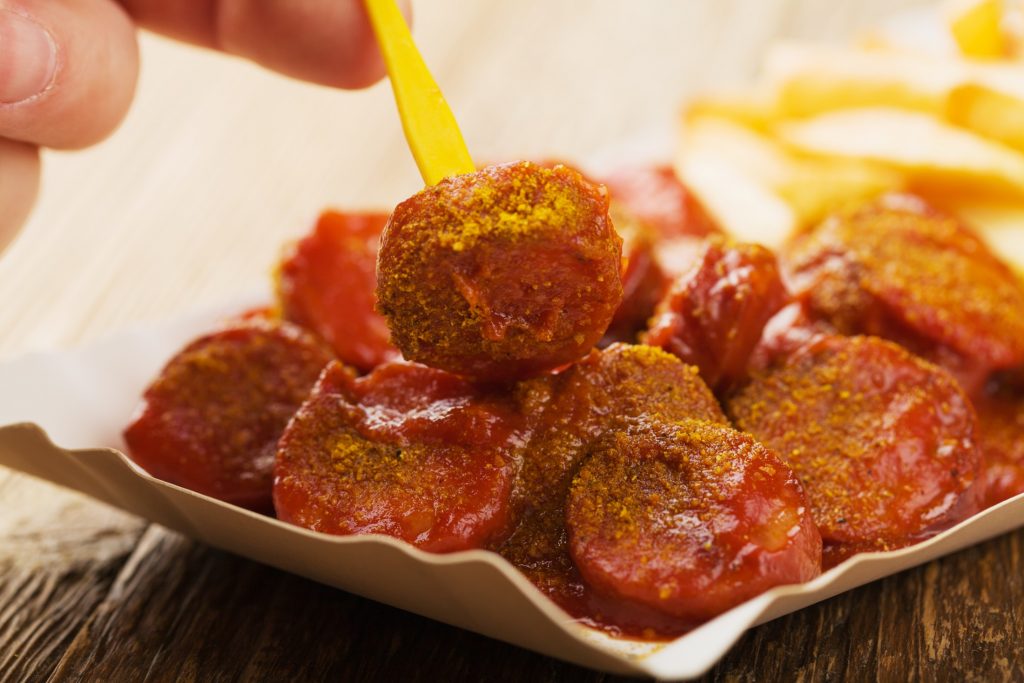 Currywurst is Germany's unofficial national dish. This fast food favourite is made by first steaming and then frying a pork sausage (bratwurst), which is then cut into tiny bite-sized pieces and smothered in curry-seasoned ketchup. If you find yourself in being hit with hunger pangs in Berlin, this is the perfect way to snack like a local. Herta Heuwer is credited with the invention of this culture-clashing dish in 1949. The country was still reeling after World War II, and Heuwer was running low on supplies for her food stand but was able to get her hands on some ketchup, Worcestershire sauce and curry powder from the occupying soldiers. She mixed them together, smothered it over a sausage, and the rest is history…
Try this flavour explosion on our trips in Germany.
Cheese fondue in Switzerland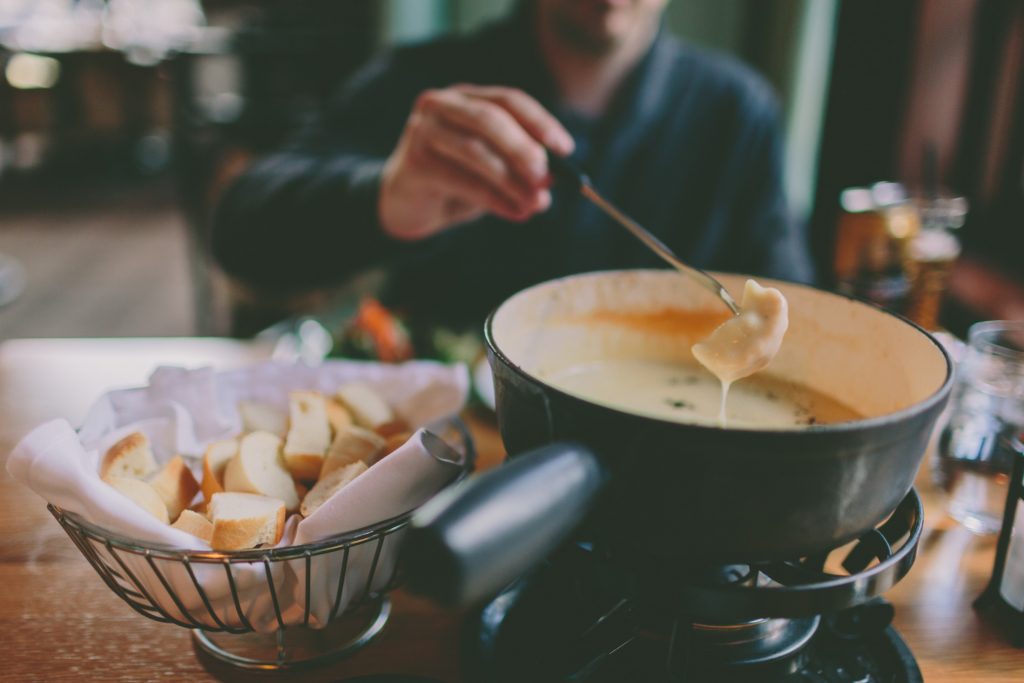 Next to catching a glimpse of the snow-tipped alps, enjoying a meal (or three) of fondue is a definite must on any trip to Switzerland. A staple of dinner parties around the world during the late 70s and 80s, fondue is more than a passing fad in Switzerland; it's part of the national identity. In a country renowned for its cheese and chocolate, it's not a surprise that this melted pot of oozy deliciousness is a mainstay of the food culture. In general, they calculate a whopping 200-250 grams of cheese per person, the equivalent to an entire block of cheese. To help counteract the debilitating effects of a cheese bomb of this proportion, locals suggest sipping wine or black tea to help the digestive process. 
Indulge yourself with this cheesy or chocolatey treat on our Switzerland trips.
Palatschinken in Austria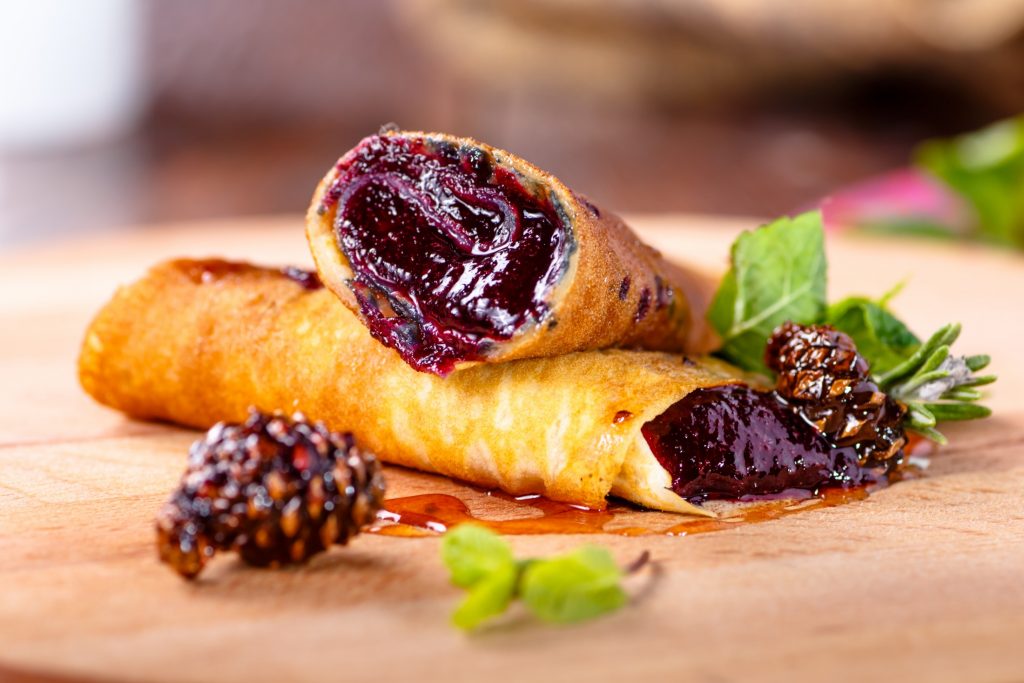 This Austrian take on the French classic crepe is the perfect sweet treat or dessert. Unlike French crepe batter, which should rest for an hour or two before being used, palatschinken batter is to be used immediately. It's drizzled into a very hot pan and then flipped with a delicate touch. Like French crepes, they can be complemented with sweet or savoury toppings. Traditional favourites are apricot or berry jam, powdered sugar or (less traditionally) Nutella. Unlike French crepes, however, once filled with the chosen toppings, palatschinken are generally rolled not folded.  
Savoury or sweet? Try them both on our Austria trips.
Smörgåstårta in Sweden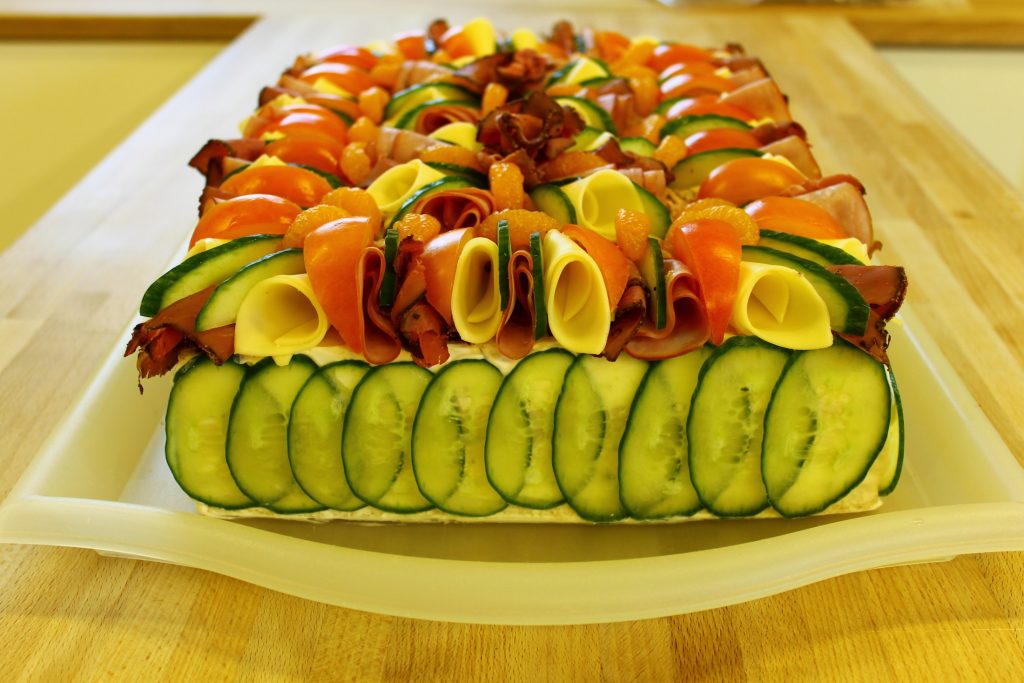 Forget the meatballs, if you want a truly authentic Swedish gastronomical experience, you have to try a slice of smörgåstårta. The name literally translates to "sandwich cake," and that's exactly what it is. Sliced bread and savoury toppings such as eggs, shrimp salad and cured salmon are layered to form the base of the cake. The whole thing is then covered in a thin layer of mayonnaise before being decorated with toppings such as salmon, cucumber, caviar and boiled eggs. This is a summer favourite in Sweden, and the most unique cake you'll ever eat. 
Have your sandwich cake and eat it too on our Sweden trips.
Arancini in Italy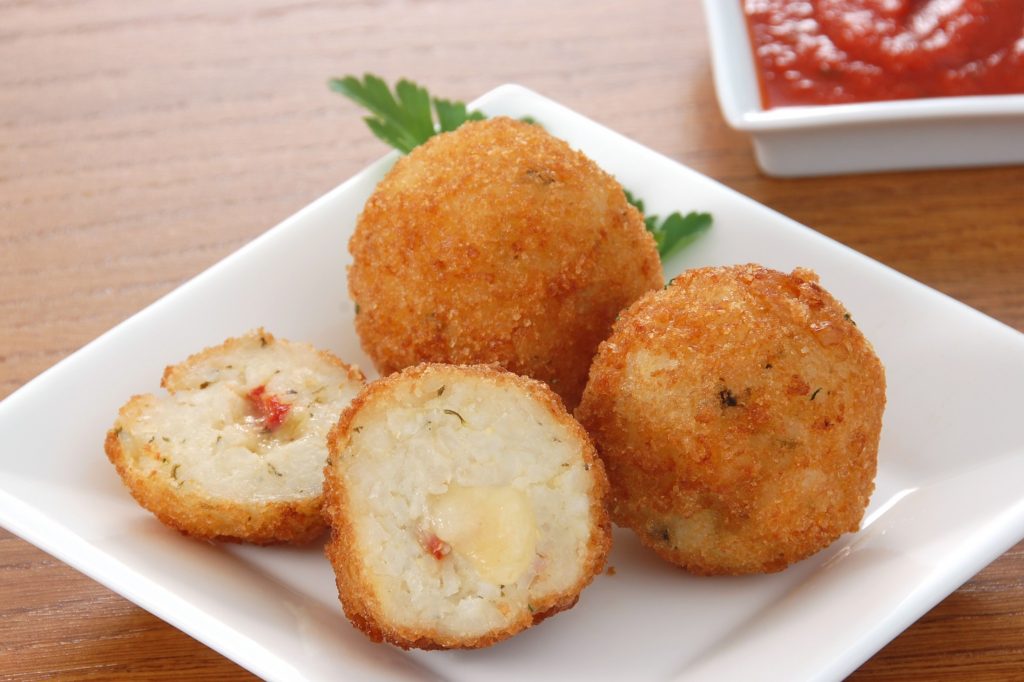 Some of the best Italian dishes have very practical, utilitarian origins, and arancini are no exception. Originally created as a way to use leftover risotto, arancini are rice balls stuffed with cheese, vegetables, mushroom and/or meat, then covered in bread crumbs and fried crispy and delicious. These flavour-filled balls are sure to become one of your favourite Italian snacks, a big feat in a country that produces one of the most tantalizing cuisines in the world. 
This is just one of the amazing dishes waiting for you on our Italian trips.
Paella in Spain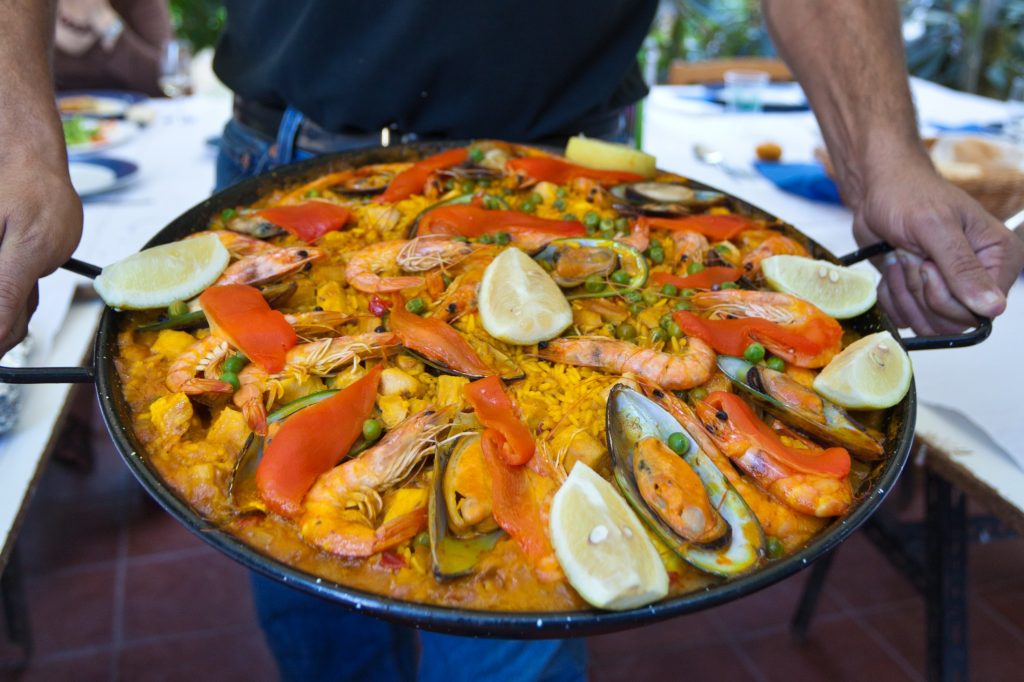 If there is one thing that you have to eat during your Spanish holiday, it's paella. A perfect embodiment of all that's great about Spanish cuisine, paella is a mix of fresh Mediterranean seafood, local game, rice, saffron – channelling the country's Moorish ancestry – and, of course, wine. It wouldn't be Spanish without a healthy splash of vino. Paella is generally prepared and served in a large dish placed in the centre of the table as a family-style meal surrounded by bread and a couple bottles of the local wine.
Enjoy a hearty paella and a glass or two of vino tinto on our Spanish trips.
Pierogi in Poland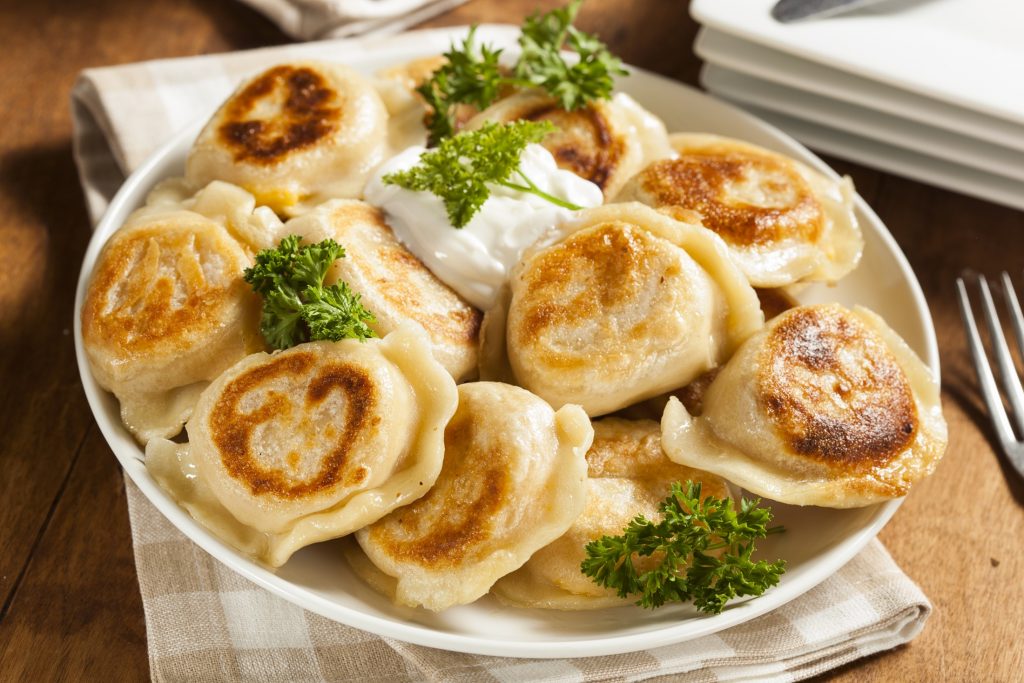 They say that every culture has their own version of a dumpling, and the Polish pierogi is one of the best incarnations by far. Traditionally, pierogis are filled with boiled potato, fried onion and cheese. They are first boiled to make sure the filling is heated through and the dumpling wrap is completely cooked, then fried in butter to give them a satisfying crunch. Lastly, they're topped with a dollop of sour cream and a sprinkling of chives before serving. Simple but delicious. 
Sample these bite-sized treats on our Poland trips.
Kolokithokeftedes in Greece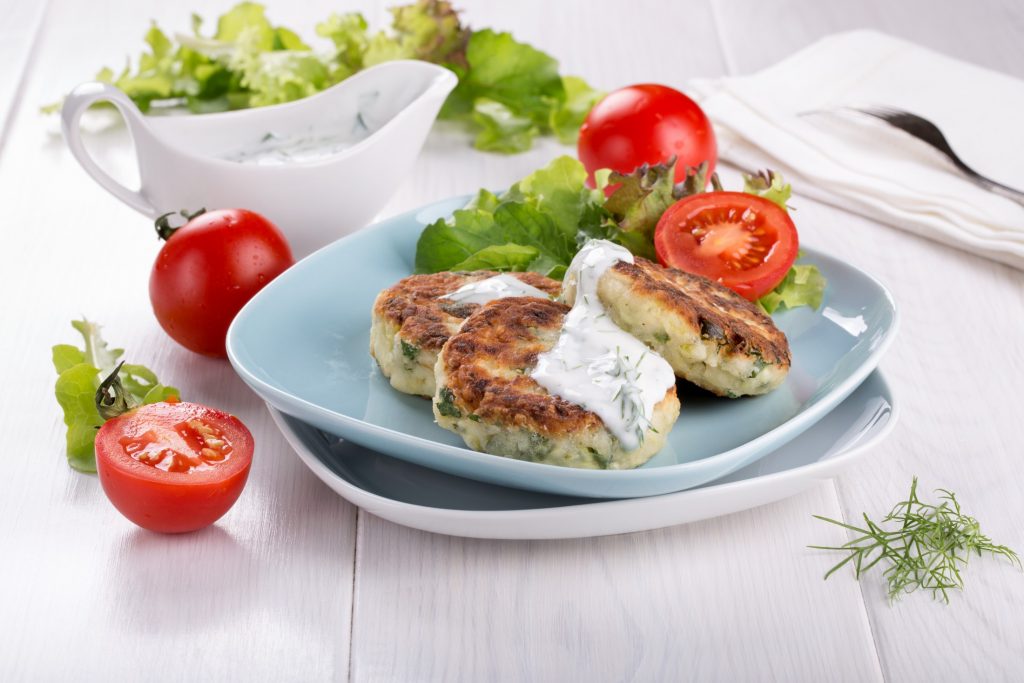 Kolokithokeftedes is a mouthful to say but an even better mouthful to enjoy. You'll undoubtedly struggle when ordering them, but once they've arrived, you'll see that your hard work was more than worth it. These zucchini and feta fritters are complemented by subtle mint flavours for a taste combination that is unmistakably Greek. They may seem easy to prepare, but it's a true art to be able to get the outside perfectly crunchy, but not burnt, while leaving the inside moist and creamy. These local favourites are featured on most meze platters and are perfect as appetizers or light meals.  
Try your hand at pronouncing this tongue-twisting treat on our Greek trips.
Croque Monsieur and Croque Madame in France 
When it comes to food, the French never do anything halfway. In fact, even their version of the grilled cheese sandwich is a culinary work of art. Although France may be known for its picture-perfect haute cuisine, the humble croque monsieur is a permanent feature in cafés throughout the country. It's essentially a grilled ham and cheese sandwich. But even this, when featuring locally cured ham and regional cheese, is a treat in itself. However, the defining characteristic of a croque monsieur is the bechamel and cheese added to the top piece of bread, melted to perfection. The croque madame is a popular spin-off that is topped with a fried egg. 
Enjoy this elevated grilled cheese delight on our France trips.
If this has got your mouth watering in anticipation of your next trip to Europe, take a look at all the delicious destinations waiting to be discovered on your European Holiday. And sample homemade food in the farms, vineyards and family homes of our local hosts on our Be My Guest experiences on every European itinerary.