Australia is a magnificent country filled with beautiful landscapes, native wildlife, fantastic food and wine, and the rich and ancient culture of the Aboriginal peoples. It's renowned for its friendly people, and you'll get to meet some of them when you travel with Trafalgar. Find out what local life is really like in Australia, whether it's a rural farm, a bush retreat, or a lush wine region. From witnessing the traditions of the local Aboriginal people in the Grampians, to sleeping in a luxury tent in Rottnest Island, here are 7 new and unique Australian experiences you can now do with Trafalgar.
1. Indulge in a food and wine tour through the famous Margaret River wine region
First, soak up the gorgeous scenery as you drive through the lush vineyards of the Margaret River wine region. Then, you'll meet your local food and wine expert for a private guided walk through the rolling vineyards.

Finally, you'll get to the mouthwatering main event – a 7-course degustation lunch paired with matching premium wines at the five-star James Halliday rated Hay Shed Hill Winery. The winery is located in Wilyabrup Valley, the premier sub-region of the Margaret River wine region.

After such an incredible experience, you'll leave with a deeper appreciation for some of the country's finest wines, why the cultivar is so popular, what it takes to run a modern winery in Australia – and of course, very satisfied stomachs.
RELATED CONTENT: Australia is open for business and you can help, by heading Down Under
2. Witness the traditions of the local Aboriginal people in the Grampians National Park
We'll take you to the beautiful Grampians Mountain Range, a couple of hours outside Melbourne. Here, you'll witness an unforgettable 'Welcome to Country' ceremony at the Brambuk Cultural Centre. You'll be greeted by the traditional people of Gariwerd, the Djab Wurrung and Jardwidjari for this enlightening cultural experience into their centuries-old traditions.

During the ceremony, you'll learn about the six seasons of Gariwerd and how the lives of the local indigenous people have been intricately entwined with this seasonal cycle for thousands of years.

You'll hear their Dreamtime stories and even have the chance to try throwing a Boomerang and taste some traditional bush tucker, native to Victoria. Be sure to take in the spectacular Grampians too, with natural rock formations, soaring mountains and stunning waterfalls.
3. Spend a night in a luxurious family run bush retreat in the Bay of Fires
Tasmanian locals, Anna and Tom, invite you into their luxurious family-run bush retreat set in the iconic Bay of Fires. We'll kick off our shoes as soon as we arrive at this special glamping retreat. It's nestled between the trees just minutes from the sandy white beaches and red rocky outcrops of the Bay of Fires.

Salty hair and sandy feet are the order of the day here, and you'll gather around the camp kitchen while acclaimed chef Tom prepares a delicious dinner using fresh local produce. As night falls, you'll relax around the campfire, sharing stories of your Australian experiences over local food and wine. Then, retire under the pristine white canvas of your beautifully appointed Bell Tent. You'll never want to leave!
4. Meet the owners of the Green Olive farm in the Mornington Peninsula
Take a journey through southern Victoria to the beautiful Mornington Peninsula, for one of the most authentic Australian experiences you can get.

You'll visit Greg, Sue, and their family at the Green Olive farm at Red Hill and get a real taste of farm life, where cows, sheep, ponies, chickens and ducks run around, along with their two Kelpies, Rasa and Indi.

Over the last two decades, they've established olive groves, vineyards, herb and vegetable gardens. You'll get to explore these gorgeous lands, complete with bushland and lush green paddocks.
5. Spend a night in a seaside eco-glamping tent on Rottnest Island
Hop on a boat bound for Rottnest Island in Western Australia. You'll cruise across the crystal blue waters before touching down on the soft white sandy shores. The star of the day will undoubtedly be the Quokka, famed as the 'smiliest' animal on earth. This adorable creature can only be found on these islands and it's one of the most iconic Australian experiences. So be sure to snap a photo before heading off to your seaside glamping experience.

You'll get to sleep (almost) under the stars in an eco-tent, just metres from the beach, surrounded by the stunning natural scenery of the island. Spend time exploring the boardwalks through the sand dunes to Pinky's Beach Club and relax by the resort pool. Then drift off in your luxury eco-tent with memories of yet another unforgettable day in Australia.
Discover the deep spiritual link between the Wadandi people and the land at Cape Naturaliste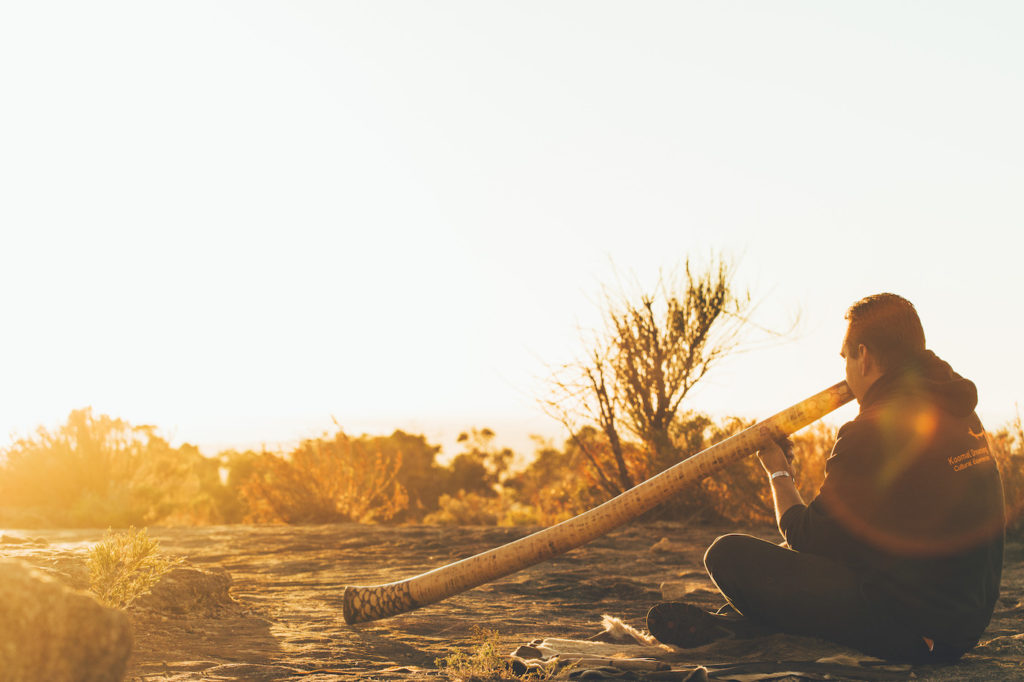 Head to Cape Naturaliste where you'll meet your local Indigenous guide, Josh, from Koomal Dreaming. He'll lead the way through the Lighthouse precinct, sharing stories and insights into the Wadandi people of the Cape region.

This soul-stirring experience begins with a 'Welcome to Country' ceremony, and you'll have the chance to learn about the deep connections the Wadandi people have with the land.

Hear stories of the Dreaming Spirits of this traditional area, and enjoy a unique didgeridoo experience. You'll also get to taste the native foods of the land, discover bush medicine made from native plants, and observe a traditional fire lighting. It's sure to be a day you'll never forget.
7. Enjoy the best of local produce at The Agrarian Kitchen Eatery in the Derwent Valley
What better way to dive into Tasmania's exceptional local produce and foodie delights, than with a visit to the Derwent Valley. We'll tickle your tastebuds with a tasting trail at Hobart's famous Salamanca Market, meeting creative local growers and makers, then head to the beautiful Derwent Valley for lunch at the Agrarian Kitchen Eatery.

Owners Rodney and Severine really celebrate local seasonal produce. You'll get to indulge in authentic paddock to plate dishes paired with the best of Tasmanian wine. And of course, all ingredients sourced locally, many from their own on-site farm.

The kitchen features a handcrafted wood-fired oven, grill and hot-smoker, all built with the bricks from the historic site of the Willow Court Asylum that once stood on these grounds. An institution older even than Port Arthur, you'll be getting a taste of history as you enjoy your delicious lunch.
All of these experiences are now available to Australian travellers looking to explore their own backyards in 2021 and beyond. To learn more about our domestic tours, chat to one of our Travel Experts today via video appointment, by using our Explore From Home service.