While the Czech Republic and beer go together like milk and cookies, the country is actually home to some exceptional wine regions. Bohemia and Moravia are producing excellent wines that'd tickle even the most discerning oenophile's palate. From sleek, contemporary spaces to rustic cellar-bars, head to these great wine bars when visiting Prague to sample local and international grape varieties.
Veltlin
A wine connoisseur's wine bar, Veltin is deadly serious about its grapes. Specialising in regions of the former Habsburg monarchy, their offering features Austrian, Hungarian and Czech wines. There are a dozen sommeliers on hand to share their encyclopaedic knowledge of Eastern European vintages and guide your taste buds. Scholarly about the wine, but light-hearted about the décor, Veltlin's walls are adorned with whimsical illustrations creating a hip and trendy ambience.
RED Pif
Fans of natural wines will love RED Pif ('red nose'). There's no wine list, but they'll help you navigate your way through hundreds of sulphite and flavour-enhancer free local and international vintages. To compliment your wine, the chic, minimalist space serves up fine French cuisine that's expertly crafted to suit the wines that occupy RED Pif's shelves. Popular with Prague's stylish sippers, this is the place to go for an elegant evening out.
Bokovka
Housed beneath a courtyard, Bokovka is an atmospheric cellar bar, all crumbling walls and dilapidated, shabby-chic vibes. Their portfolio is vast and lovingly curated, reading like a greatest hits of Europe's lesser-known regions across Germany, France, Slovenia and Italy. Aside from fantastic reds and whites, Bokovka also have a fine Champagne, sparkling and orange wine selection.
Salabka
Few Prague wine bars can boast their own vineyard and winery on site, but Salabka can. Positioned on the peak of the hilly Troja suburb with panoramic views over the city, Salabka is a sophisticated spot to sample a wide variety of wines. There are Chardonnays, Reislings and Pinot Blancs. There's full-bodied Pinot Noir and local grapes like Neronet. There's also a fine dining restaurant on the Salabka estate, where you can enjoy an unforgettable dinner with paired wines.
Vinograf Míšeňská St.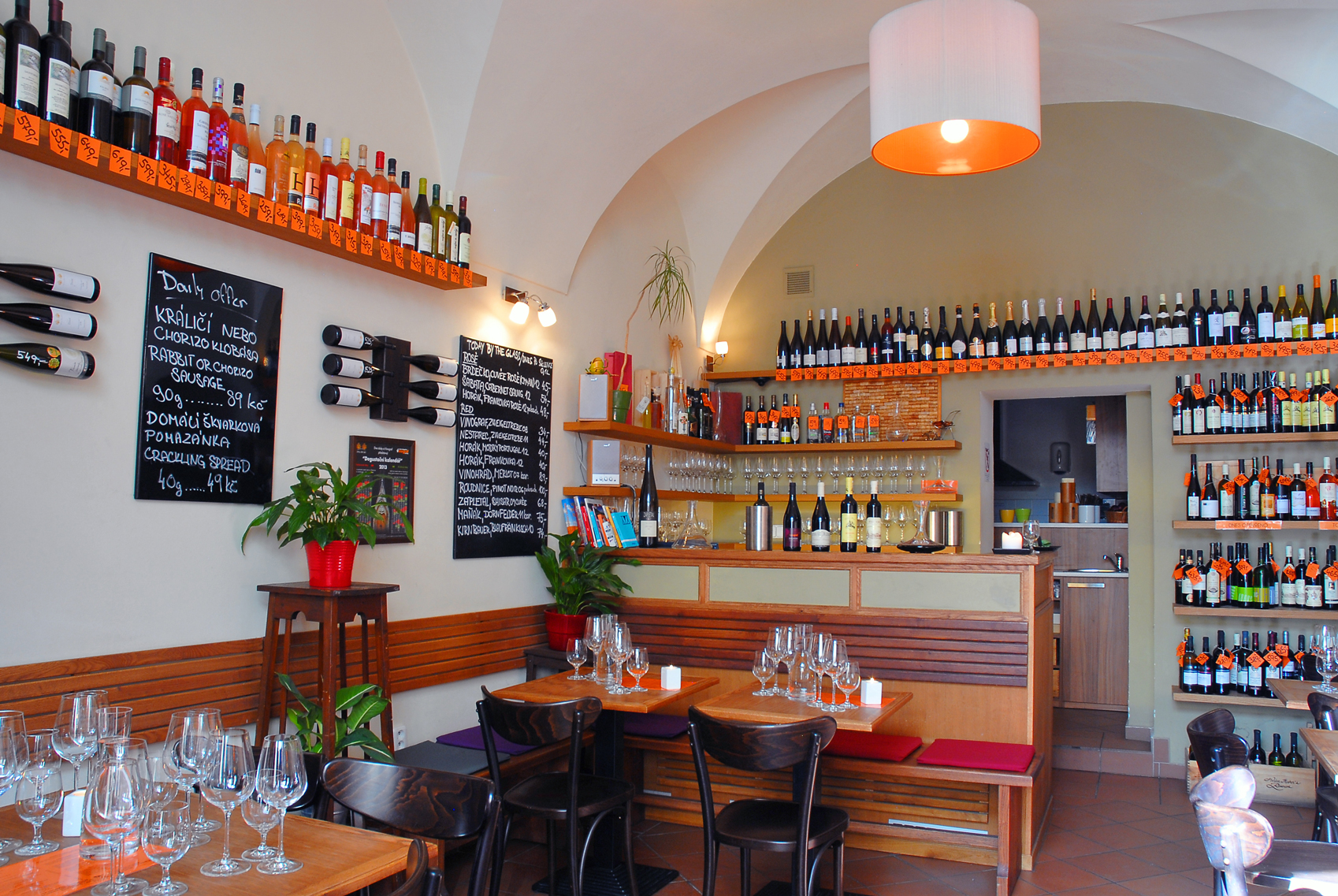 With its arched ceilings, pared-back décor, and brick walls, Vinograf is a charmingly rustic Czech wine bar. Focused entirely on Czech wines, there are 350 wines by the bottle and 35 wines by glass – that's quite a list to work through! With an emphasis on sourcing from independent, lesser-known winemakers, it's the place to go for a truly authentic Czech wine experience. To soak up the wine, the intimate bar serves tasty selections of smoked meats and cheeses.
Fancy slurping your way around Prague's wine bars? Join us on our Prague, Vienna and Budapest or Imperial Europe trips!
Images: Main image © iStock/Wavebreakmedia. Wine Bar images © each respective establishment.