From engagements to honeymooners to special anniversaries, we've been lucky enough to meet many couples over the years celebrating special life events. So when the opportunity arose to organize a secret wedding in Sicily for Australian couple Cathie and Rick, of course our incredible Italian Travel Director Alessia said yes.
Together with Rick and Cathie's sister Jackie, plans were made for the couple to get married while in Sicily, at a location close to Cathie's heart. But how did the unsuspecting bride feel about her impromptu wedding, and did the day go off without a hitch?
We caught up with Cathie to share her incredible story…
Can you tell us a little bit about the love story between you and Rick? How did you meet and how long were you together before the wedding?
I met Rick online 3 weeks before my Europe trip with Trafalgar in 2011, a trip I had promised my 2 sons before they left home. We visited many beautiful destinations, but Taormina in Sicily was my favourite.
When we returned, I said to Rick that if ever I get married again, I would love to get married in Taormina. Fast track 8 years, Rick and I decided to go on a Trafalgar tour to Europe including Sicily, my father's home country.
Whilst in Palermo and with Taormina as our next stop, Rick surprised me 2 days before the wedding and proposed. He said that I needed to find a wedding dress and a ring ASAP.
The people in Palermo were so amazing and extremely helpful. Considering there was a language barrier we managed to get rings made for us within a day, and were able to pick them up later that night.
Little did I know that my sister Jackie from Hello World Travel, and Alessia our Trafalgar Travel Director, were both in on the action. They had been organizing this event with Rick prior to departing Australia. They were amazing and kept the secret safe.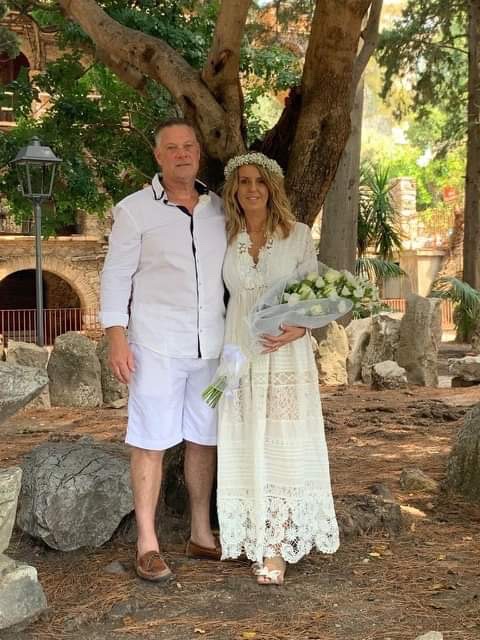 What made you decide to get married on a Trafalgar trip?
It was all Rick's doing! He remembered all those years ago that I'd mentioned to him that Taormina was my favourite place and that if I were to get married again, this would be the perfect place. The city of love.
RELATED CONTENT: Love in the USA: The Australian solo traveller who found love while travelling with Trafalgar far from home
Which trip were you travelling on?
It was a trip called 'Discover the souls of Italy', It was a fantastic trip. We loved every second, especially as this was Rick's first time to Europe.
Had you always wanted to get married overseas? If so, why?
Italy/Sicily is my father's heritage and this marriage meant a lot to them. He always hoped that 1 of his 5 children would get married in his home country. I never thought at the time that I would be getting married on our holiday. It was the best. 
Tell us all about your wedding day – what was it like?
Our wedding took place on September 13th, 2019, and was completely off the cuff. Jackie and Alessia organized the flowers, champagne, marriage celebrant and lunch at my father's favourite restaurant. Our tour group were all in on the secret and invited to the wedding (of course!), as well as the celebration lunch. We had the ceremony in the park overlooking the ocean.
Everything worked to perfection, from the weather to the celebration afterwards. It was the perfect day; one we will cherish in our memories forever.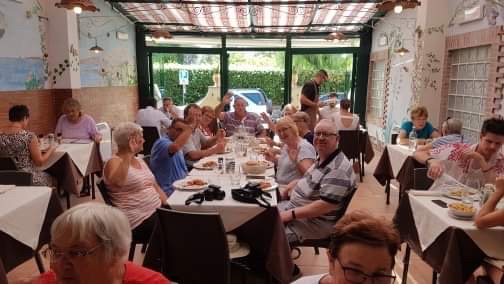 How did you Travel Director help to organize and bring your wedding to life?
Rick and I can't thank Alessia enough for all her amazing efforts. From liaising with Jackie prior to us arriving to Italy, to organizing an English-speaking marriage celebrant, speaking with the council to get approvals, clearing the park area, organizing the flowers, lunch, bon bon and wedding cake topper and even somewhere for us to get changed – she was just amazing and we couldn't have done it without her. Trafalgar even supplied us with a traditional Italian wedding cake which was divine.
RELATED CONTENT: From Ireland to Australia, the 12 year Trafalgar friendship founded by travel
What's your favourite memory from your Trafalgar wedding?
Rick and I enjoyed every minute of the day. It was just perfect. We highly recommend Trafalgar tours and cannot wait to book again. Thanks Trafalgar for all the amazing memories!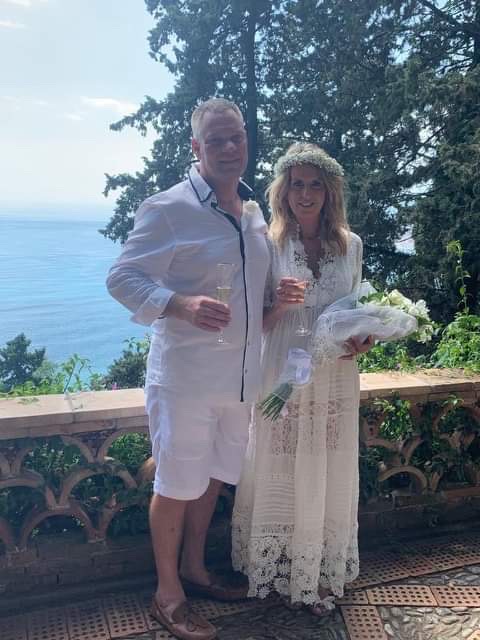 Do you have an incredible Trafalgar story you would like to share? Perhaps you met the love of your life while travelling with us, took a trip to commemorate an important time in your life, or learnt something incredible about yourself while overseas? Share your story in the comments below, or send us a private message on Facebook and our team will get in touch.