This essential food guide to Istanbul will kickstart your journey through the city's best culinary specialities and food experiences. In multicultural Istanbul, the food is as diverse and interesting as the city's unique setting, sandwiched between Asia and Europe.  
For centuries, hungry travellers and merchants stopped in Istanbul, then Byzantium, then Constantinople, to fuel up for their journeys. These travellers would follow the Silk Road to far-flung corners of the world. These travellers of old brought with them the cultures and tastes of their homelands, including flavourful spices and other exotic ingredients.  
Turkey's fertile, fresh produce mixed with these ingredients to create unique recipes and moreish meals, so prepare to get hungry with our essential food guide to Istanbul.
Turkish breakfast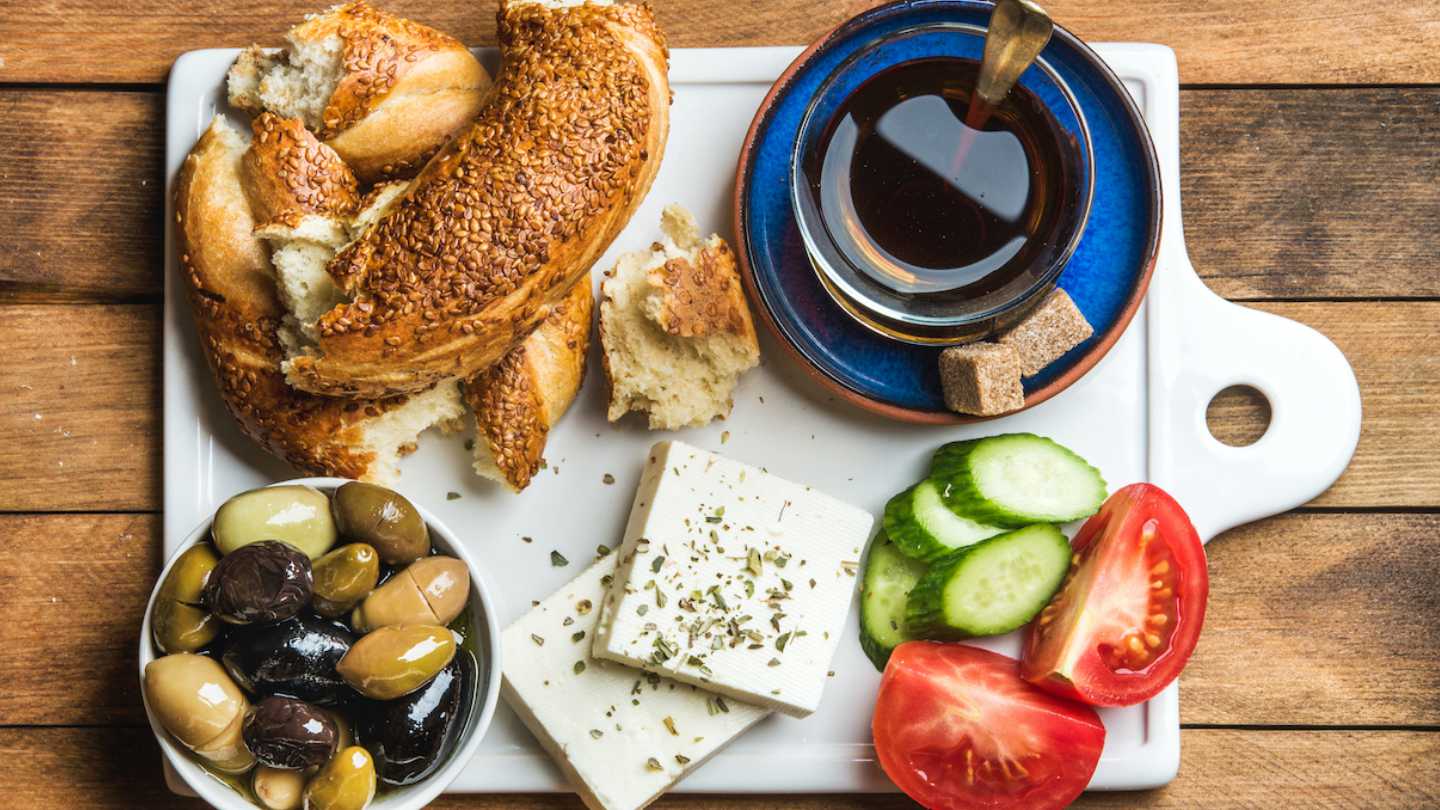 Be prepared for more variety in Istanbul if you enjoy a standard breakfast order of scrambled eggs and bacon on the side. Starting the day in this multi-cultural city means tea, not coffee, with your morning brew normally accompanied with ripe tomatoes and crunchy cucumbers.  Think of it as a continental breakfast but with a healthy, fresh kick. Nibble on crumbly white feta cheese, smooth and salty olives (zeytin), boiled eggs, honey, jam, omelettes and lashings of butter.  
Keep your eyes – and taste buds – peeled for two stand-out dishes. Savour Sucuklu yumurta, a spicy dried sausage cooked with eggs and served in the pan. Börek meanwhile comprises paper-thin sheets of dough. Meat, cheese, feta, spinach, potatoes and other vegetables are layered between the sheets and cooked into a delicious savoury pie. Locals often serve these two specialities to spoil guests and showcase their warm Turkish hospitality. 
Turkish Coffee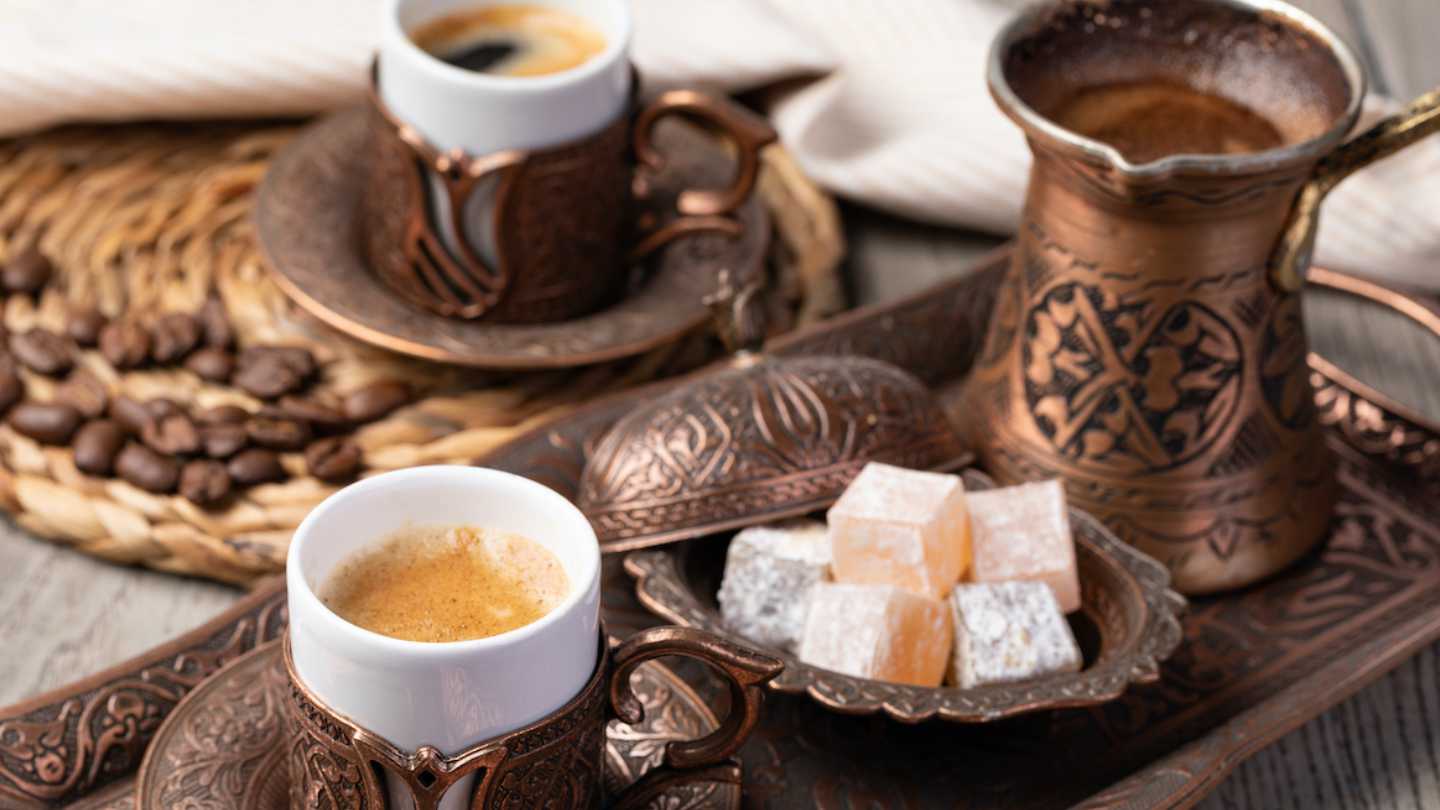 You can order your morning cappuccino in Istanbul, but when in Turkey, do as the locals do. The country has a vibrant coffee culture with a strong social aspect. So, forget the to-go cup. Your hosts will brew a cup of Turkish coffee which you can enjoy together after a meal.  
Finely ground coffee beans are brewed in a cezve, a small pot with long handles, and boiled with sugar and cardamom. This espresso-sized coffee cup is served with a glass of water and perhaps a Turkish delight. We recommend sipping it slowly while chatting with new friends.  
RELATED CONTENT: Your essential Turkey travel guide
Maraş dondurma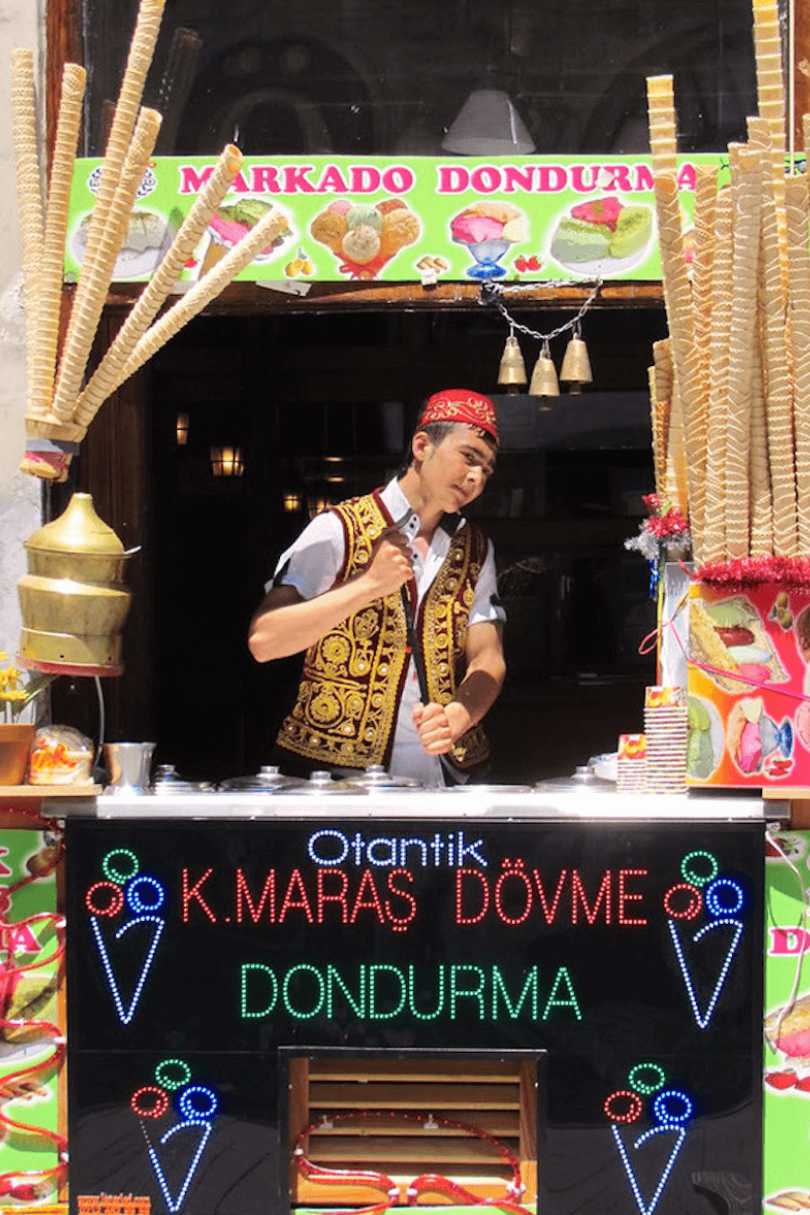 Try Maraş dondurma, the local ice cream served by vendors on Istanbul's streets. This authentic Turkish ice cream is said to originate from the city of Kahramanmaraş, previously Maraş, in the south of the country. 
Dondurma (or Maraş ice cream) is likely a bit different to the ice cream you'd probably enjoy back home. It's sweet and creamy as expected, but also slightly chewy and stretchy. So, imagine ice cream with the texture of chewing gum. The 'secret' ingredients of salep powder (ground roots of a wild orchid native to Turkey) and resin give it its unique texture. 
This ice cream comes with a free show on the side. The ice cream vendors are kitted out in the traditional dress of the Kahramanmaraş region. They enjoy playing around with the ice cream and pranking customers. You'll find these vendors across the city. 
Pide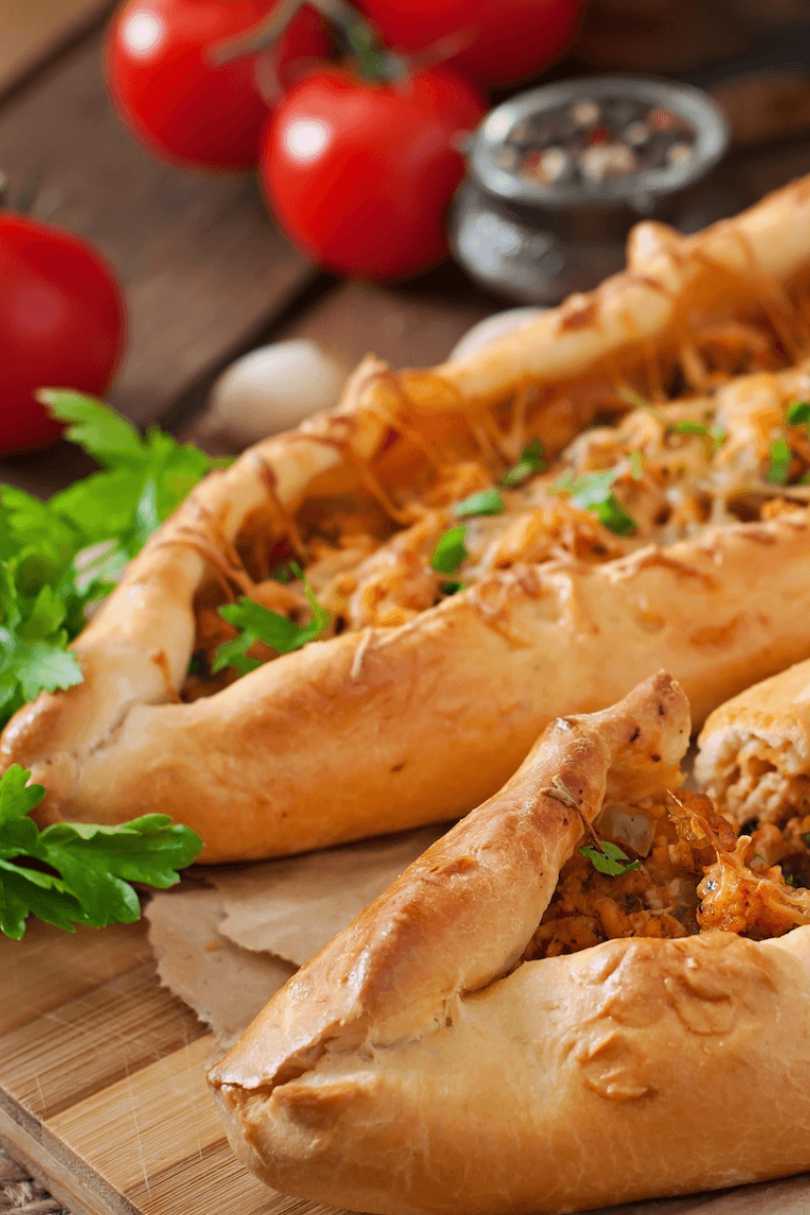 Referring to Istanbul's pide as a "Turkish pizza of sorts" is a vast injustice. This melt-in-your-mouth, fresh-from-the-oven warm street food snack is one of the city's iconic meat-based eats and a must for any Turkish food guide. Bakers shape the dough to resemble a boat, then fill it with an assortment of fillings such as ground meat, lamb, veal and spinach. They then crack an egg over the top for a decadent edge.  
You can find pide across Istanbul, so look out for pidecisi restaurants that craft this masterpiece. You will find some of the best conveniently located a stone's throw from the Grand Bazaar and other traveller hotspots in the city. 
Baklava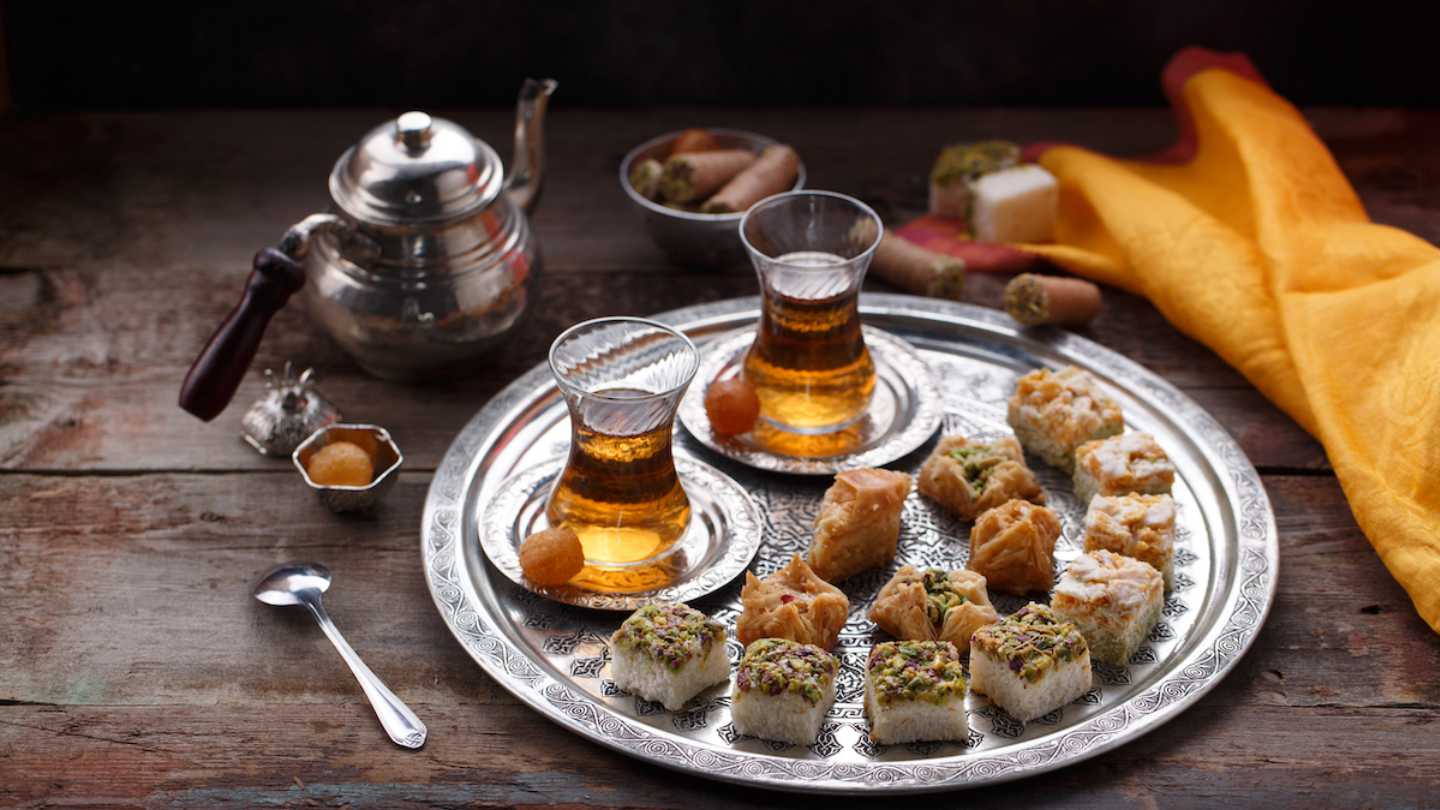 Craving something sweet? If you think Baklava is a Greek-only treat, think again. This syrupy-sweet treat originated in the Ottoman Empire when a baklava usta (master) would spend a lifetime honing his baklava-making skills. Today, you can find some of the best versions in Istanbul.
Thin sheets of Phyllo pastry provide a delicious and delicate layered blanket to nuts such as pistachios, hazelnuts or walnuts, which are spread between each layer, and liberally painted with butter and soaked in syrup.  
Konyalıis, one of the city's excellent restaurants, serves a variation made with a hint of sweet orange. Or pop into one of the Karaköy Güllüoğlu stores spread all over the city or Hamdi in Eminönü Square, just two of the sprinkling of popular eateries whipping up Baklava.  
What would you include on your food guide to Istanbul? Share your favourite food memories and hidden gems in the city by commenting below.   
GET INSPIRED: Highlights of Turkey