When thinking about where to travel this year we can't help but be inspired by the 2021 destinations featured in the latest films and TV series. While we're stuck inside craving an adventure of our own, the next best thing is to watch our favourite actors galavant around these comforting local or far flung exotic locations.
When it comes to choosing where to travel right now and later in 2021, we think films and TV will heavily influence 2021 travel trends. From the British countryside to Berlin to Budapest, here are the 2021 travel destinations made famous by the biggest films and TV series of late.
Bridgerton: Grand homes of the United Kingdom
Dear Readers, did you get swept up in Bridgerton fever? Netflix took a risk on the high-budget, bold-costumes of this period drama and the risk paid off big time. The series whisks us around the social season in London, bouncing between grand homes and estates in and around the city and in the countryside near Bath. Once the British can travel domestically again, we think these filming locations will become popular 2021 travel destinations for long weekends and day trips.
RELATED CONTENT: Essential items to pack for a trip to the UK for every season
The Dig: Countryside UK
History buffs and countryside lovers tune in. Based on true events and set in 1939, this Netflix original film stars Carey Mulligan as a wealthy widow who hires an archaeologist (Ralph Fiennes). The job is to excavate the burial mounds on her large estate, which leads to the greatest discovery in 20th century Britain: a wealth of medieval Anglo-Saxon artifacts. This film puts the spotlight on some of the United Kingdom's most lovely countryside. Wondering where to travel right now? Choose the wide open green spaces of Surrey and Suffolk for your 2021 travel.
GET INSPIRED: Britain and Ireland Grandeur
The Queen's Gambit: Berlin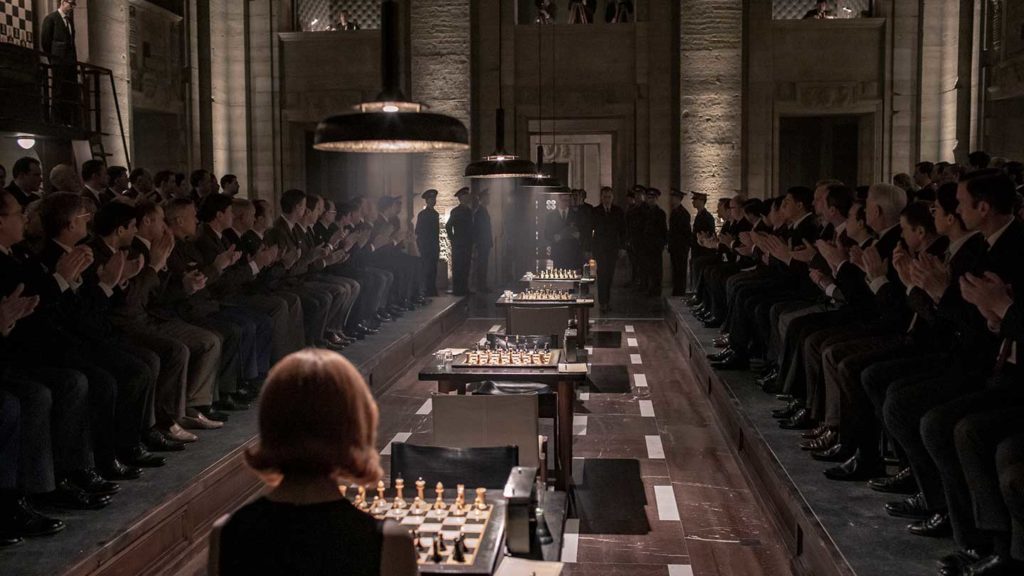 Beth Harmon is lead of this chess focused show, but the Netflix series is about so much more. When you're not wrapped up in her fast play and natural style and glamour, notice how the addictive series whisks us from the USA to Paris to Mexico City as Harmon competes in tournaments. In reality, these scenes were mostly filmed in Berlin.
If you are considering a 2021 destination and where to travel this year why not to follow in her footsteps. The orphanage she grew up in? It's the private Schulzendorf Castle near Berlin. The Paris hotel? That's Haus Cumberland in Berlin. The department store? That's a vintage store in Berlin. The Las Vegas hotel? It's actually the Palais am Funkturm in Berlin too. The Aztec Palace Hotel in Mexico City? More like Berlin's Friedrichstadt Palace. Even soviet-style buildings in Berlin stepped in for the Moscow scenes.
GET INSPIRED: Best of Germany
Black Widow: Budapest
Scarlett Johansson's Black Widow puts hot 2021 travel destination Budapest in the limelight in her long-awaited solo Marvel movie. While we have to wait until May for the movie itself, the trailer reveals some of the stunning scenery. First of all, Budapest's own (quite different) Statue of Liberty stars in a shot. The bronze sculpture sits at the top of the Gellért-hegy nature reserve, an incredible location worth seeking out as from here you can enjoy views over the whole city. In another scene Johansson disembarks a train in the huge 1884-built Budapest-Keleti station. While Budapest is the centre of action and will be a trending place to travel to this year, film crews also shot in Norway, Morocco and the USA.
GET INSPIRED: Prague, Vienna and Budapest
Nomadland: America's West
Road trip through America's West with actress Frances McDormand as nomadic Fern. After losing everything in the Great Recession, Fern throws it all in to see if #VanLife is as good as they say and takes us on a modern Western journey through Arizona, Nevada, Utah and South Dakota. After watching this potential Oscar flick, there's no doubt you'll feel ready to hit the road yourself. America's national parks are incredible and definitely a popular place to travel to this year. Like Fern you can journey from the Grand Canyon to Horseshoe Bend to Thor's Hammer at Bryce Canyon.
GET INSPIRED: Best of the Canyonlands
Supernova: Lake District, UK
There's something incredible calm, peaceful and poetic about England's picturesque Lake District in the north. It's no wonder this touching film about dementia takes place in such a beautiful countryside. Set near Keswick and North Lakes, make like Stanley Tucci and Colin Firth and take in all that the Lake District has to offer: from Lake Windermere to National Trust-owned properties like Crummock Water and Buttermere. The wide open spaces and chance to connect with nature will make this UK region a hot 2021 travel trend.
GET INSPIRED: Real Britain
Where are you planning to travel to right now or later this year? Will these 2021 films and TV shows influence your travel destinations? Let us know in the comments….