What would a trip along the Great Ocean Road be without some fish and chips? When you travel along one of the world's greatest coastlines, you know you'll be able to get the best fish and chips almost everywhere you go. Think fresh local fish and crispy golden chips, all doused in vinegar, salt, gravy or good 'ol tommy sauce…

There's really nothing quite like pulling up on the sandy foreshore and tucking into your paper-wrapped package of seafood goodness. So BYO wet wipes because we're taking you around some of our favourite places on the Great Ocean Road to get fish and chips.
Hunky Dory
181 Bay St, Port Melbourne
If you're starting or ending your Great Ocean Road trip in Melbourne, be sure to head to Hunky Dory in Port Melbourne for some of the best fish and chips in the city. You can get delicious food at a reasonable price, with healthy options too!
Order a juicy fillet of grilled dory and choose from sides like chips, rice, Greek salad, garden salad and spinach salad. You can also choose to spice up your fish with flavours like Caribbean mango and African chermoula. Delicious!
GET INSPIRED BY: Victoria's Natural Wonders
Paper Fish
30 Jacka Blvd, St Kilda
When in Melbourne, head to the sunny shores of St Kilda for the best fish and chips around. They say their twist on fish and chips is 'more than just a squeeze of lemon', so you're certainly in for a treat.
Their menu is filled with locally-caught fresh fish and a light menu that's delicious without the greasiness. Expect dishes like Coconut Prawn Tacos, grilled salmon and Japanese potato cakes, along with your classic battered fish and chips.
Best of all, Paper Fish is committed to sustainability, and they work with local fisheries and wildlife agencies to make sure they only serve fish that is local or found in abundance. This fish and chippery won't just taste good – it's good for the oceans too.
GET INSPIRED BY: Melbourne and the Great Ocean Road
Daylesford Seafood Bar
62 Vincent St, Daylesford
If you're looking for the best fish and chips in Daylesford, you can't go past this seafood bar. Think golden, crispy battered fish and chips that's perfectly cooked every time, along with delights like scallops, salmon, fish burgers and homemade tartar sauce. With reasonable prices and friendly staff, this is definitely worth a stop on your road trip.
Parker's Fish & Chips
137 Timor St, Warrnambool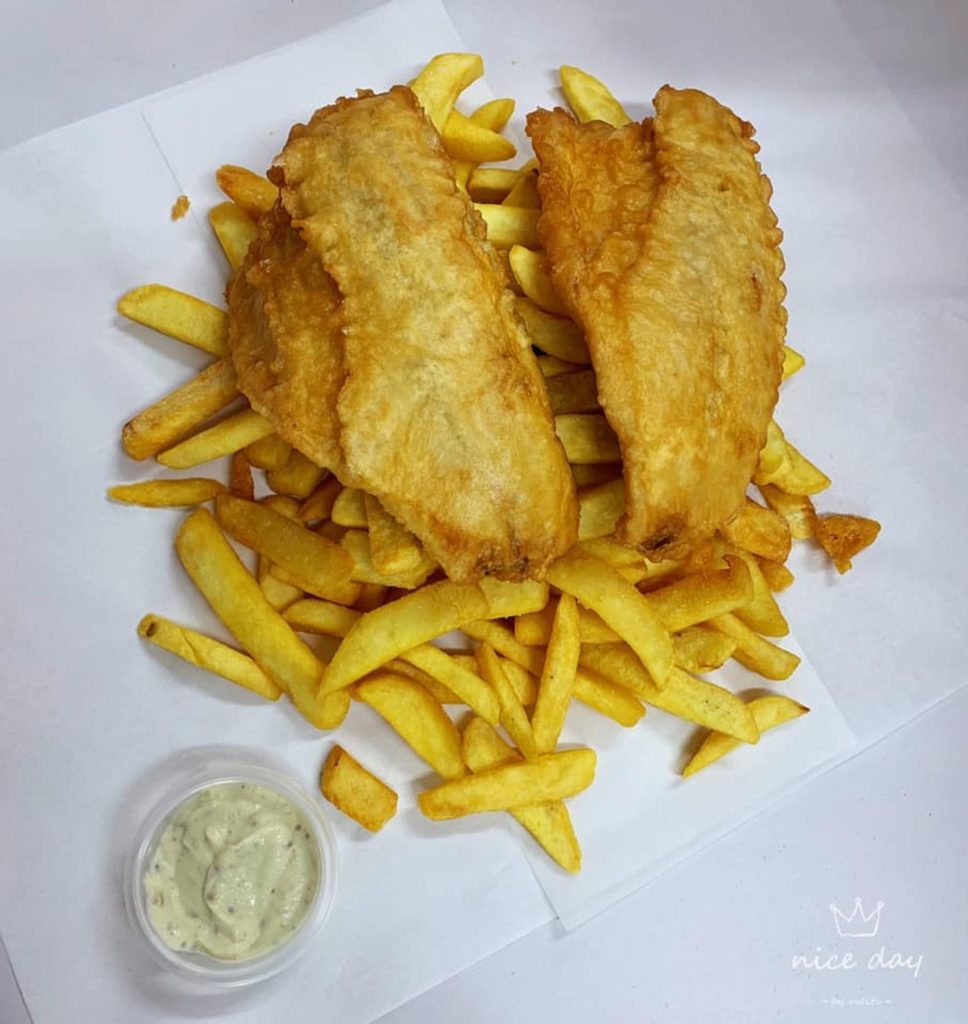 There are dozens of chipperies to choose from in Warrnambool, and Parker's Fish & Chips Shop is one of the best. The place is always popular but it's worth the wait for reasonably priced, delicious seafood! Choose from a great selection of fresh fish including barramundi, grenadier, flathead, salmon, whiting, flake and butterfish.
There's also delicious extras like battered and crumbed prawns, calamari rings, scallops, fish cakes and fish burgers. Be sure to get your chips with lashings of gravy – just like the locals do it.
GET INSPIRED BY: Tastes of Southern Australia
The Salty Dog Fish and Chippery
1/150 Mountjoy Parade, Lorne
There's nothing better than fish and chips in a seaside town, and The Salty Dog delivers the goods in Lorne! What makes this spot so delicious is that their food is super fresh.
They change their oil regularly so you'll always get crispy chips, and their local fish is simply melt-in-your-mouth. You can eat in or takeaway, but we love pulling up in the car park opposite and enjoying lunch with a view.
Captain Gummy's Fish and Chips
145 Beach St, Frankston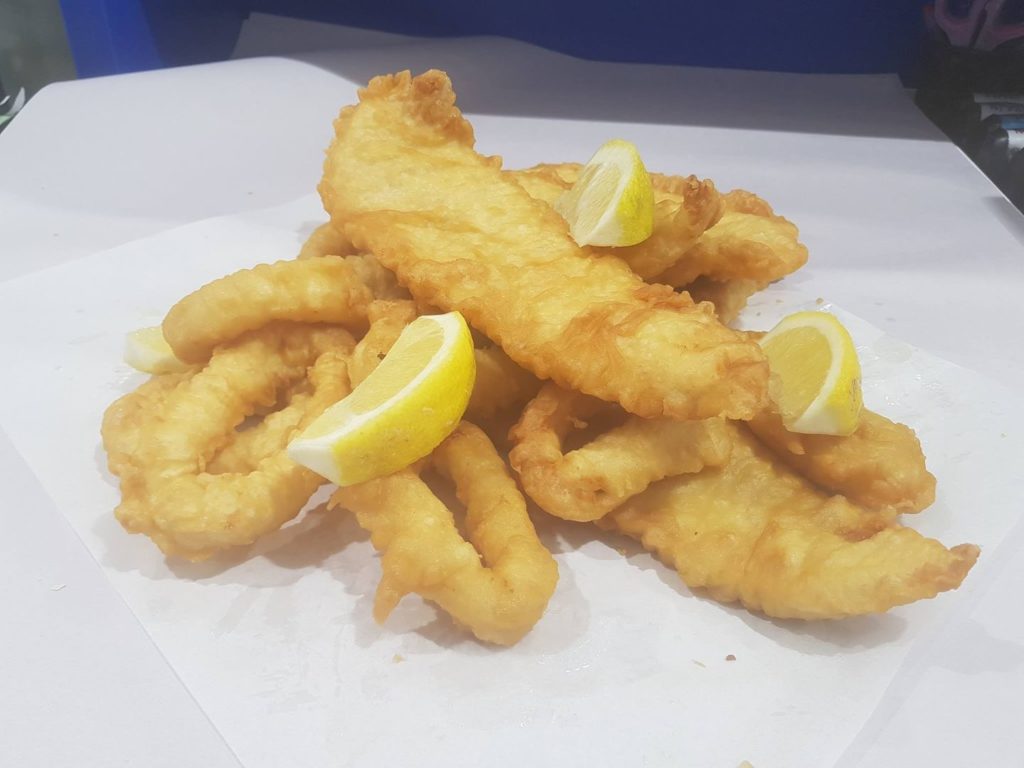 If you're looking for the best fish and chips on the Great Ocean Road that is also gluten-free, look no further than Captain Gummy's in Mornington Peninsula. This fish and chippy is owned and run by a local family who caters to food intolerances and hand-make all their food with love. There's a huge gluten-free menu, along with regular fish and chips, and delicious sides like burgers, Greek gyros and Greek salads. Set close to the beach, it doesn't get much better than this!
RELATED CONTENT: 7 new and beautifully unique Australian experiences you can now do with Trafalgar
Apollo Bay Fisherman Co-Op Society
2 Breakwater Rd, Apollo Bay
Everyone raves about this place and you'll quickly see why once you get a taste of their fish and chips. This part of the Great Ocean Road is famed for its crayfish and you can get both cooked and fresh crayfish here. You can also tuck into prawns, oysters and fresh crabs, and a great selection of local fish including grenadier, flathead and King George whiting.
Plus, you know it's super fresh because you can see Apollo Bay's little fishing fleet in the harbour just outside! Enjoy your lunch on the deck with sea views, or get yours to go and walk along the jetty to watch the southern rock lobsters getting unloaded from the cray boats.
Fisho's Torquay
36 The Esplanade, Torquay
What would a trip to Torquay be without a stop at Fisho's? They serve up some of the best fish and chips in the area and it's always a favourite with the coastal crowd. The menu is fantastic with your classic fish and chips, and sides like rice, quinoa and salads.
You can also get seafood delights like Tempura Fish Tacos and Ceviche, to go with your hand-cut chips. Enjoy your lunch on the picnic tables on the lawn, or head down to the beach just a stone's throw away.
Where is your favourite spot to enjoy fish and chips on the Great Ocean Road? Let us know in the comments below!