With the Federal Tourism Minister Simon Birmingham urging Australian holiday-makers to avoid booking any international travel amid the Coronavirus crisis and warning bans could still be in place around Christmas. Now is the time for Australians to focus on visiting their own backyard and to help support their local economy.
"Think about the Aussie break that you might take when we finally get to the other side of this." -Senator Birmingham told ABC's News Breakfast.
Australia's local tourism has taken a major hit over the past six months, with the summer bush fires and COVID-19 crisis wiping billions from the industry. The knock on effects could see tourism lose around $3 billion each month across Australia. However, there is light at the end of the tunnel, Qantas announced they will be running a minimum domestic network, meaning when the time is right, Australians will be able to visit loved ones in different states. With this in mind, we've put together a list of 11 little known local spots in Melbourne to help you rediscover the city and its surrounds.
Rediscover Melbourne's restaurant scene
1. Kazuki's
In the heart of Melbourne's "Little Italy", you'll find a delightful Japanese restaurant. Kazuki's exquisite dishes use classic French techniques combined with Japanese flavours. Try the duck breast with shiitakes, radicchio and black garlic or kombu-cured Ora King salmon – yes they even make salmon interesting – you won't regret it.
Where is it in Melbourne? Located on Lygon Street in Carlton.
2. Jack Rabbit Winery
Forget stuffy, fancy white table-clothed wineries and meet Jack Rabbit; the coolest winery on the Bellarine Peninsula. With sweeping views across the bay, sophisticated cool climate wines and a contemporary à la carte menu, Jack Rabbit is a must for anyone looking to check out Victoria's famous vineyards.
Experience Jack Rabbit Winery on: Victoria's Hidden Gems
3. Di Stasio Citta
Pay attention because this restaurant is full of surprises. Starting with its entrance, there's no sign just a giant glass door with a hidden button on the left – if you know, you know. Once in you'll be captivated by the artistic video installations playing on loop around you. But the real masterpiece, is Di Stasio's pasta the Linguine Capri made from prawns, parsley, lemon and… "sunshine".
Where is it in Melbourne? Spring St, opposite the Treasury Gardens, between Collins St and Flinders Lane.
Best weekend breaks close to Melbourne
4. The Great Ocean Road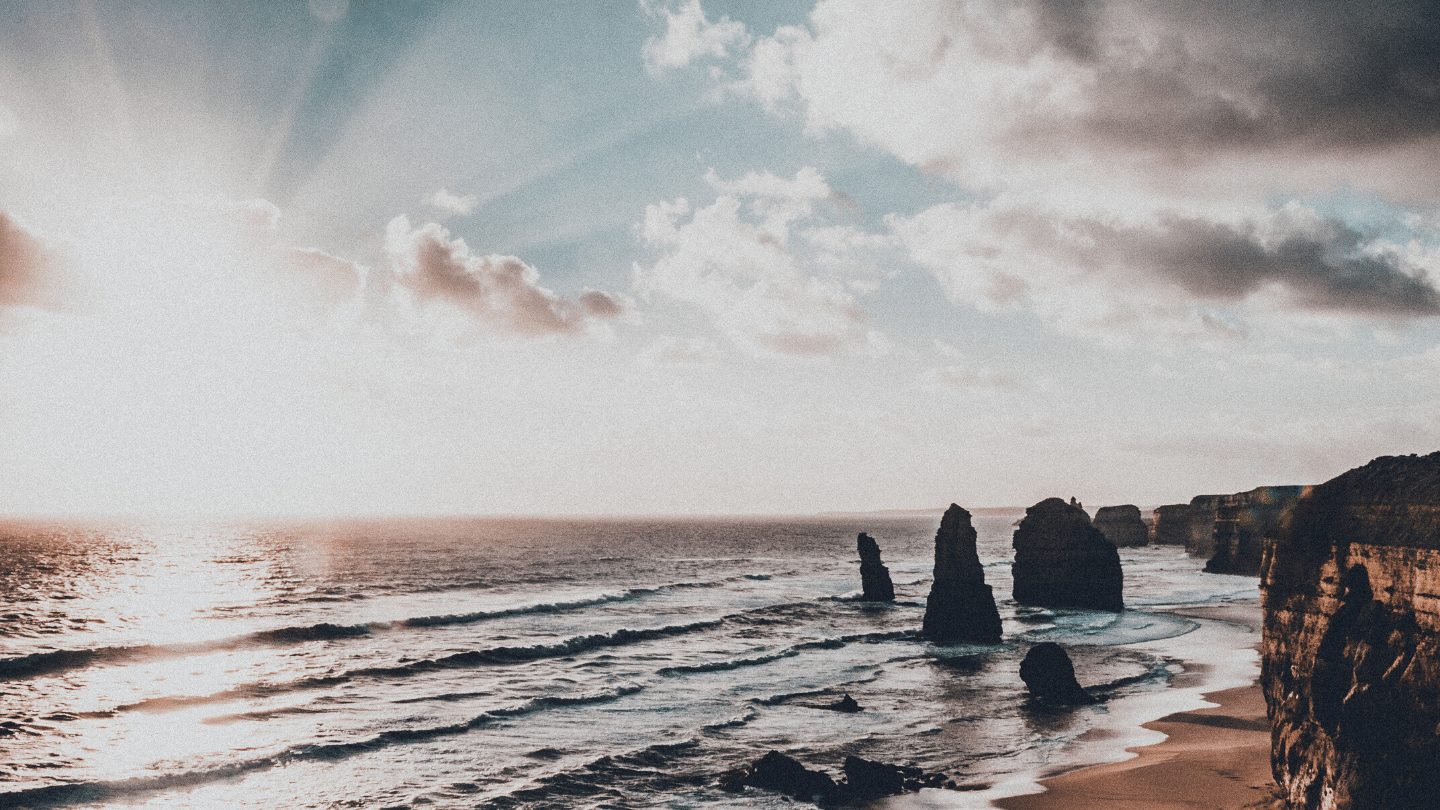 OK not so "little known" but you can't visit Melbourne and not head to the world-famous Great Ocean Road. This gorgeous stretch of coastline is one of the best road trips in Australia. Start your journey in the surfing capital of Torquay, home of the Rip Curl pro and birthplace of Quicksilver. Before heading onto Great Otway National Park, for a treetop walk and zip line tour. Next up is Wreck Beach, famed for its impressive shipwrecks still on anchor. But the pièce de résistance, are the iconic 12 Apostles, twelve limestone rock formations that tower above the crashing waves.
How far is it from Melbourne? 2 hour 30 min drive west of the city.
5. Daylesford
Daylesford is the "spa capital of Australia", a quaint country town home to wellness centres and day spas making it an ideal city escape. Many Italian and Swiss immigrants were drawn in by the natural springs and settled here giving the town an old-world charm. Spend an afternoon relaxing at Hepburn Bathhouse & Spa known for being one of Australia's most abundant concentrations of natural mineral springs. Also, be sure to visit the many award-winning restaurants in the area like Lake House which is also a small luxury hotel.
Experience Hepburn Springs on: Victoria's Hidden Gems
6. Lakes Entrance
Often over shadowed by the Great Ocean Road, Lakes Entrance in Victoria's east is a not-to-be missed highlight of the state. Lakes Entrance is the country's largest inland network of waterways and although it doesn't scream excitement it's the ideal place to catch up on some R&R. Spend your weekend lounging on Ninety Mile Beach, kayaking across waterways and feasting on fresh seafood.
How far is it from Melbourne? 4 hour drive east of the city.
Melbourne's hidden bars
7. Jungle Boy
This bar is a well kept secret only locals know about. Hidden behind the fridge in sandwich shop called Boston Sub, you'll find a small jungle oasis. With plants filling every nook and cranny and tropical cocktails served in tiki mugs, this is one hard to find (and hard to leave) cocktail bar in Melbourne.
Where is it in Melbourne? That would be telling.
8. 1806
Step back in time as you soak up 1806's prohibition glamour. Taking its name from the year "cocktail" first entered the English dictionary, 1806 has established itself on the international scene, winning the 'World's Best Cocktail Menu' in 2008. After finding the hidden entrance, sink into one of their luxurious velvet chairs, in a dimly lit corner and spend the evening enjoying a hot toddy (or two).
Where is it in Melbourne? 169 Exhibition Street.
9. The Attic at Black Pearl
Not exactly the best-kept secret in Melbourne, but some of these places are just too good not to share. This Southern American speakeasy-themed bar is located above the famous Melbourne nightspot, The Black Pearl. The Attic is dark, Gothic and has an excellent cocktail menu, you have to ring the door bell and if there's enough room you'll be let in – it's worth the wait.
Best local markets in Melbourne
10. Queen Victoria Market
"Vic Market" has been around for more than 120 years, offering up the best produce, seafood, meats, cheeses, breads and other delicatessen delights. The market hosts cooking classes and two-hour foodie tours. To be a true local, avoid Saturdays if possible, as they are the busiest and most "touristy" day of the week.
Where to find it? On the corner of Victoria & Elizabeth Streets.
11. Prahran Market
A plethora of local produce, ethnic foods, artisan cheeses, fresh-cut flowers and handmade gifts, Prahran market is not one to be missed. Open Tuesday, Thursday-Sunday, take a leisurely stroll around it's stalls and feel like a true Melburnian.
Where to find it? On Commercial Road.
Thinking about Melbourne and Victoria for your next Aussie adventure? Then check out Trafalgar's Victoria's Natural Wonders tour, exclusively available to our Australian readers. What's your favourite local spot in Melbourne? Let us know in the comments below and we'll add it to the list.
RELATED CONTENT: 10 experiences you can only have in Australia