To reach 25 years of marriage is a celebration that needs to be celebrated. Leanne and Shawn (O'Donnell) Hermann, from North Carolina, USA, certainly through so, and so booked our Best of Ireland tour in the summer of 2018 to mark this very special anniversary. Little did they know that while on this tour, they would celebrate their enduring love for one another in a very special, and very poignant way.
This is their story…
Why did you choose the Best of Ireland tour?
When we were meeting with our AAA booking agent in the Spring of 2018, we knew we wanted to visit Ireland. One of our absolute "musts" on the itinerary was visiting County Donegal and touring the Donegal Castle, former home of the O'Donnell Clan. My family's heritage is rich with the love of everything Irish. We have traced our family ties back to County Donegal when my fifth-generation grandfather, Dennis O'Donnell, and his two brothers emigrated from Ireland in the late 1700s and settled in western Pennsylvania, USA. In fact, I grew up in Donegal Township, Butler County, Pennsylvania. The Best of Ireland tour met all our criteria, and we absolutely made the right choice!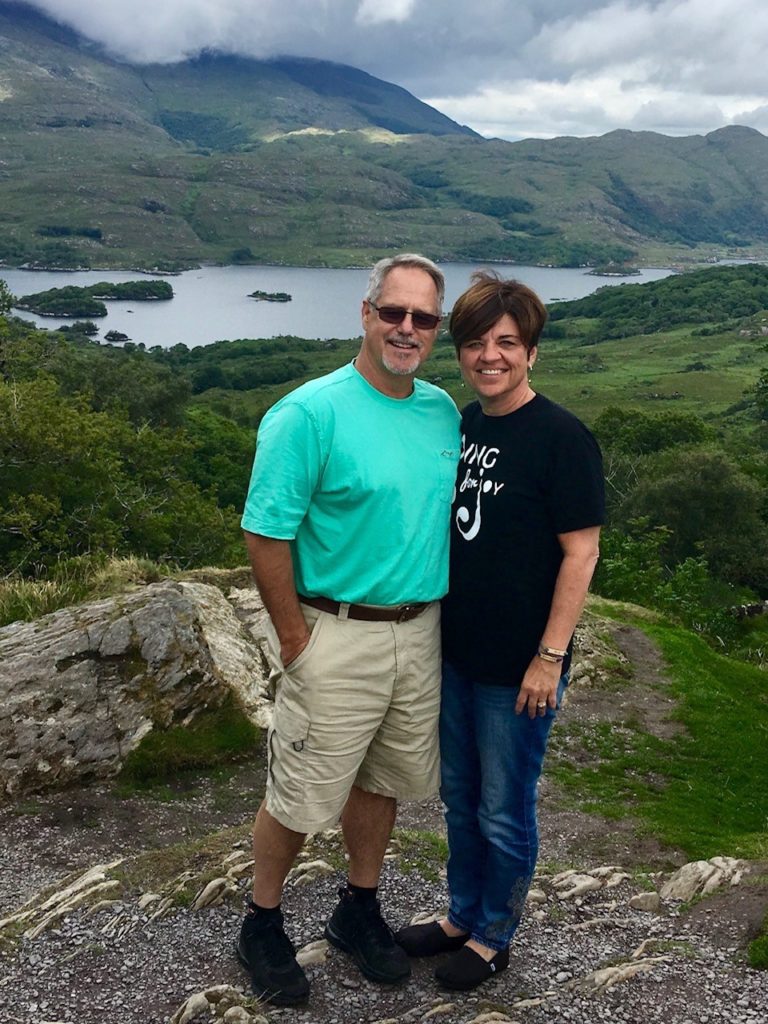 Was this the first time you had travelled with Trafalgar?
We had never travelled with Trafalgar before. In fact, this was our very first vacation with ANY organized tour group, and we could not have asked for a more amazing Ireland adventure!
Did you book the trip to celebrate a special event?
We were celebrating our 25th wedding anniversary, so we were super excited to choose our tour knowing we would be in Ireland on our anniversary day (August 7, 2018).
Little did we know the precious gift we would receive that day; the opportunity to renew our wedding vows at the Knock Shrine and tour the Donegal Castle!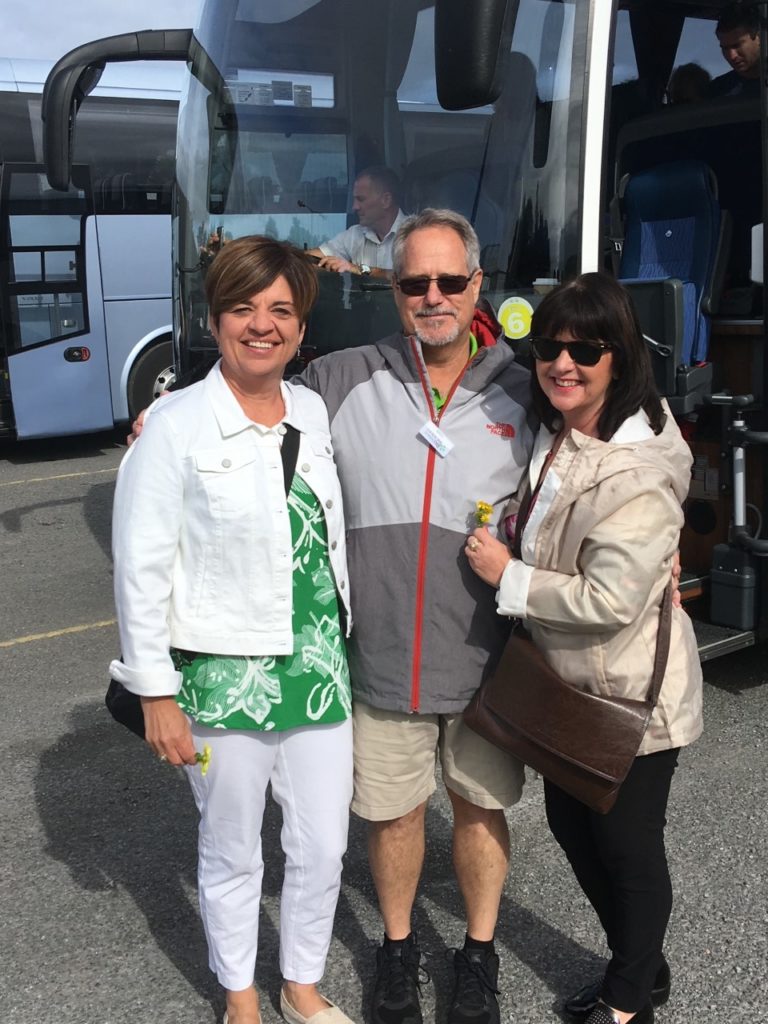 Did you make friends on your tour?
Yes, many! Father Gregory Vozzo from Boston, Massachusetts, was a fellow Ireland excursionist, and it was a pleasure to meet and know him. He was travelling alone, and Shawn and I had the opportunity to know him better when we were seated with him for dinner one evening. Father Gregory settled into our "little group" comprised of us, honeymooners from Ohio (Alison and Kyle), the three "Gavin Girls" (Maureen, Meghan, and Caitlyn) and their parents (Kathy and Kevin) from Florida, and a precious couple from New Zealand (David and Evelyn) who were celebrating their 50th wedding anniversary. Our wonderful Travel Director Carol Lynn and I also quickly became friends and affectionately referred to one another as "my Irish soul-sister".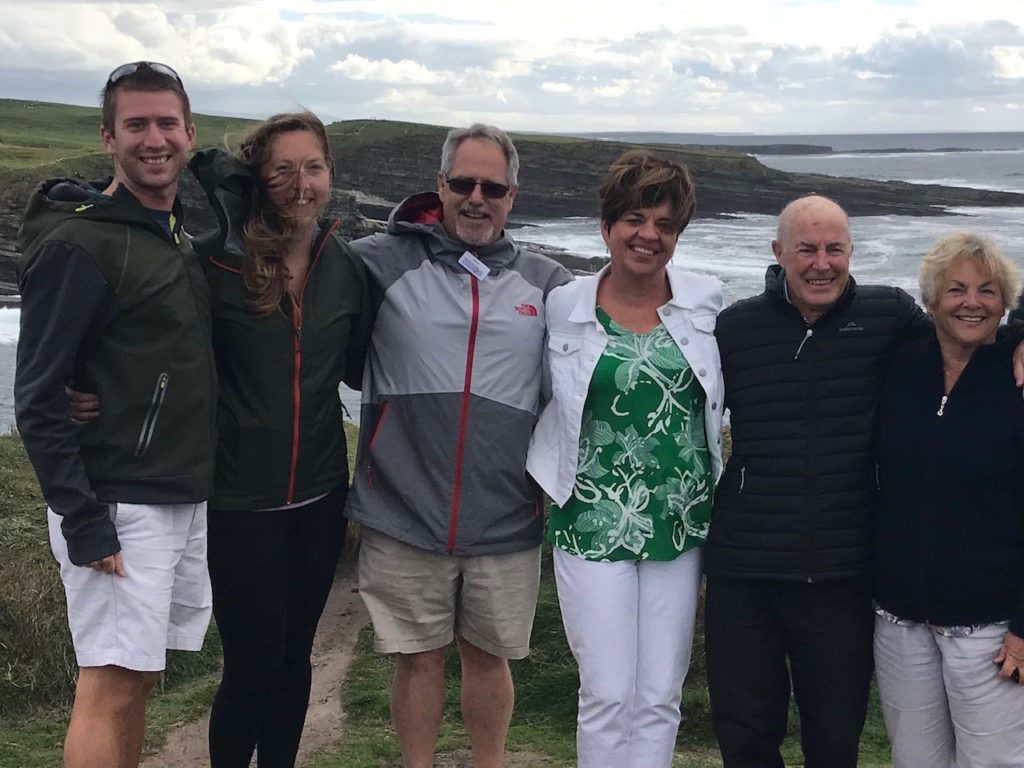 I understand Father Gregory organised something quite special for your group?
Father Gregory was extremely excited for the opportunity to officiate a Sunday morning mass in a conference room at our hotel in Limerick. He brought the elements for communion and his liturgical vestments with him from Boston, so he was fully prepared if the opportunity presented itself, and it did! Approximately 15 members of our tour group attended mass that morning.
It was that day, August 5, that Shawn and I realized we were going to be visiting the Knock Marian Shrine AND traveling to County Donegal on August 7, our wedding anniversary day. Carol Lynn and I had spoken earlier in the trip about Father Gregory praying a blessing over all the newlyweds on our tour (there were at least 3 couples on their honeymoons), the many couples celebrating anniversaries, and all the marriages when we arrived at the Knock Shrine.
Shawn and I asked Father Gregory if he would consider officiating a short wedding vow renewal ceremony for us, and he readily agreed. Later he would describe our wedding vow renewal as "an awesome way to experience the Knock Shrine!".
RELATED CONTENT: Love on the road: How this Travel Director couple make their relationship work
Tell me about your visit to Knock Marian Shrine, and what happened there?
It was the day of our anniversary, August 7. As we arrived at the Knock Marian Shrine, Carol Lynn announced to the tour group that we would be on the grounds for approximately 1.5 hours on our own schedule. She shared with the group Father Gregory would be praying a blessing over ALL marriages in the Knock Shrine in addition to officiating our 25th wedding vow renewal. All were invited, but Carol Lynn emphasised this was not a mandatory experience.
Shawn and I were humbled, honored, and amazed that all 48 members of our tour group chose to share in our ceremony with us. I even asked the three Gavin girls and Alison to stand in as my honorary bridesmaids!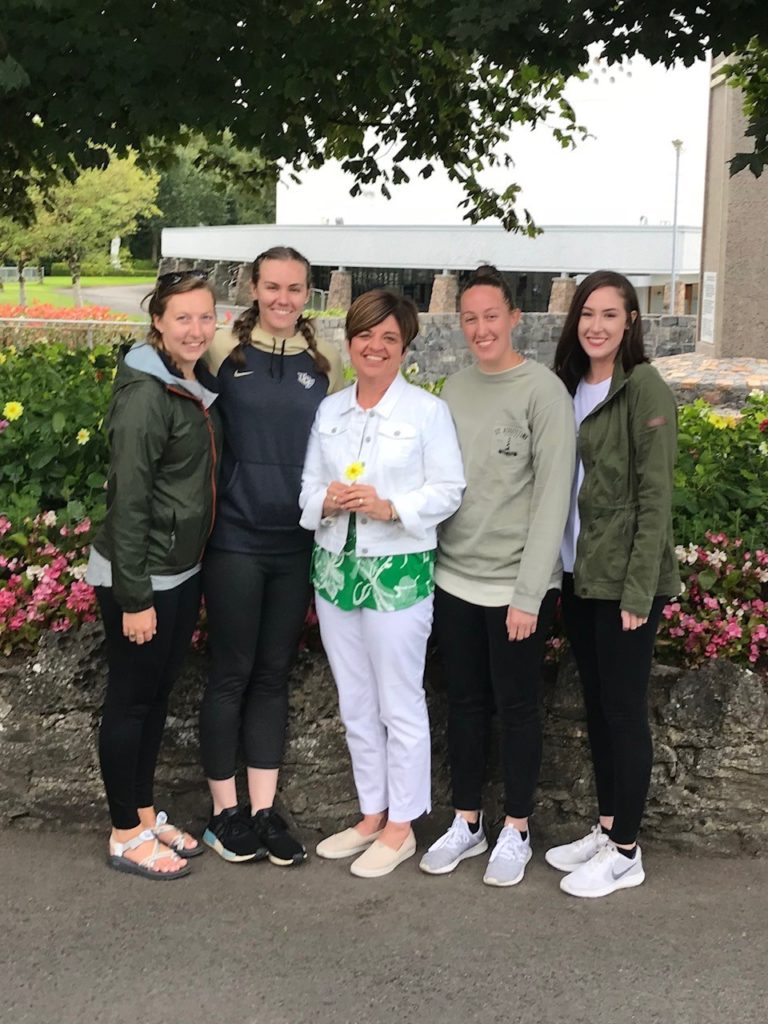 We quietly and reverently entered the shrine and joined other visitors who were seated in the pews. All 48 of us filed into the pews for a few moments of quiet prayer, and then Father Gregory stepped forward to pray a blessing over all the marriages within our group. We collectively stood to receive Father Gregory's blessing.
Then, Father Gregory invited Shawn and I to come forward to renew our wedding vows. It was a brief but beautiful moment of renewing our love, reaffirming our promises, and recommitting our marriage to God. Before we entered the Shrine, Maureen had picked a small flower for me to use as my "bridal bouquet". After the ceremony, I followed tradition and tossed my bouquet to the eligible ladies. To everyone's delight, applause, and laughter, our very favorite Travel Director and my Irish sister, Carol Lynn, caught the bouquet (tradition says she is next in line to be married)!
Did you have any intention of renewing your vows on the tour?
When we made our decision to travel to Ireland, we knew we were going to be celebrating our anniversary while traveling. Initially, it was not our intention to officially renew our wedding vows, but God orchestrated such a beautiful and harmonious arrangement of lives intersecting, according to His perfect timing, and placed the idea in my heart.
God presented us with such a treasured gift on that day, not only in the beauty of Ireland, but in the many special people we met along the way. Shawn and I were married in the Catholic Church in 1993, and although I am no longer a practicing Catholic, I have a very deep respect for my Catholic heritage and the Catholic Church. We are devout Christians, and our faith in Jesus is of the utmost importance in our marriage and family. When the Lord presented us with the opportunity of a lifetime and aligned all the stars for us, we knew the moment and the people surrounding us were precious gifts from God.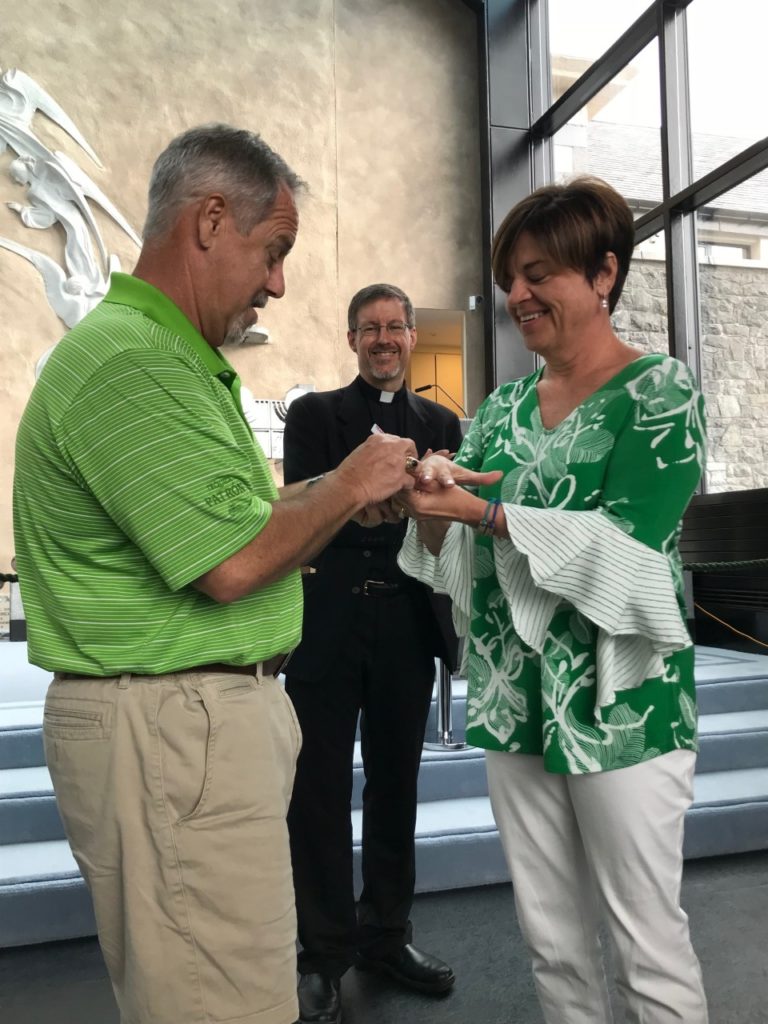 What were some of your other highlight memories from this tour?
The "icing on the cake" of our anniversary celebration occurred later that day when we arrived in Donegal County, and Shawn and I toured the Donegal Castle, former home of my O'Donnell forefathers. There are so many memories we hold close to our hearts: the magnificence and beauty of the Ireland countryside and the countless shades of green, kissing the Blarney Stone, Shawn sipping his first Guinness stout, Irish coffees with Alison and Kyle on the streets of Killarney, Carol Lynn's many "Hidden Treasure" excursions, the Irish music and lively dancing (our last evening in Dublin as a Trafalgar Tour Group, Carol Lynn gave Caitlyn and I an Irish dancing lesson… the shenanigans continued to the very end).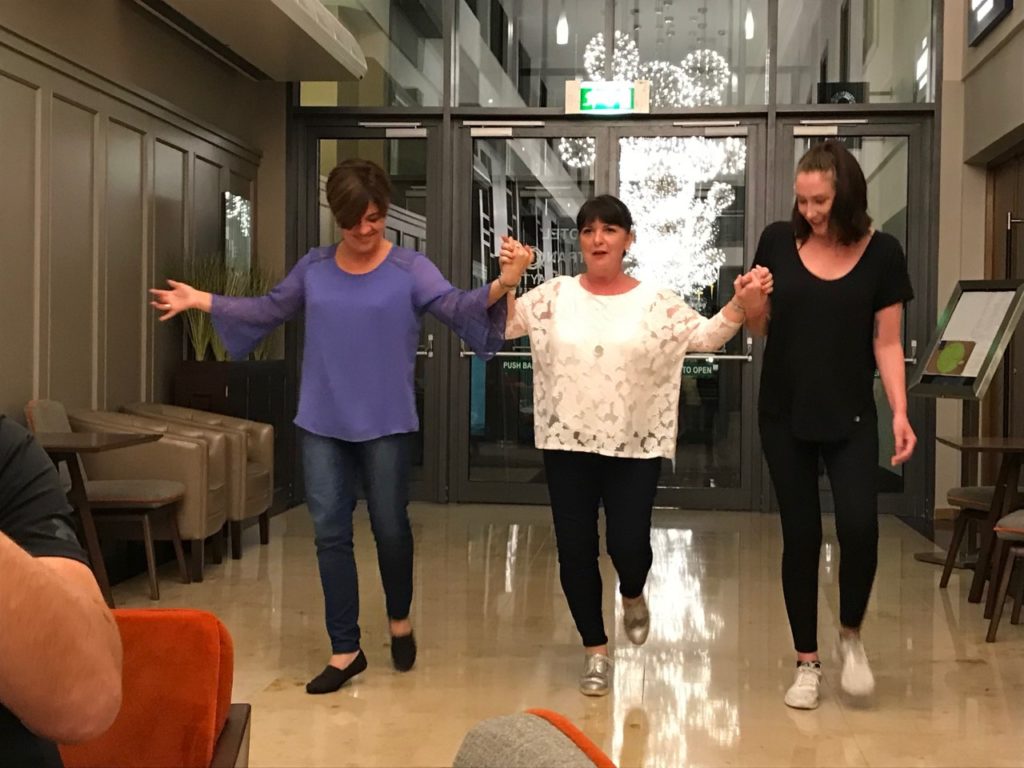 And of course the FOOD… oh, my goodness, the food was spectacular! I would be also remiss if I did not count the KINDNESS of the people of Ireland as one of our highlights and fondest memories. Time and again, we were treated with open arms and incredible kindness by the locals of Ireland.
Has this experience made Ireland even more special for you both?
Mere words cannot express how fondly we cherish our memories, experiences, and the relationships we made on this tour. From start to finish, our vacation to Ireland was the best trip we have ever experienced! We are already talking about our next trip to Ireland in 2024 to celebrate Shawn's 60th birthday. We plan to bring our adult children (and future spouses, perhaps?!) so they, too, may visit the beautiful Emerald Isle, the homeland of their ancestors.
I have already shared our plans with Carol Lynn, and we, of course, will definitely travel with Trafalgar Tours again, hopefully with Carol Lynn leading us on another adventure to see the sights and experience new "Hidden Treasures"!
RELATED CONTENT: This couple got married on a Trafalgar trip, and their entire tour group were invited
Why do you think Trafalgar is a good option for those looking to celebrate a special romantic occasion, such as a honeymoon or anniversary?
Traveling with Trafalgar is the BEST way to travel and experience top-notch service, comfort, and accommodations, ESPECIALLY when celebrating a special occasion. Shawn and I loved the luxury of having our luggage handled by the Trafalgar team. Not having to carry our bags in and out of hotels was such a blessing. We also enjoyed having a planned and detailed itinerary each day from an experienced company who knows the best places to visit. We also appreciated the "down-time" we had to explore on our own. Another plus to traveling with Trafalgar is the inclusion of our planned meals. Shawn and I both agree that our very favorite meal on tour was at a restaurant "off the beaten path". Had our meal that evening not been planned for us, we would not have visited it on our own!
Another positive aspect of traveling with a tour group such as Trafalgar is the opportunity to meet a variety of people from all over the world. To this day, almost three years later, I still communicate with Carol Lynn, Father Gregory, the Gavins and the Hermillers, and the McBrides from New Zealand. We got together with the Gavin Family in 2019 (at an Irish Pub, of course!) to share pictures, laughter, and memories from our Best of Ireland adventure.
RELATED CONTENT: Ireland: Your guide to the Emerald Isle